Tigers make quick work of Gamecocks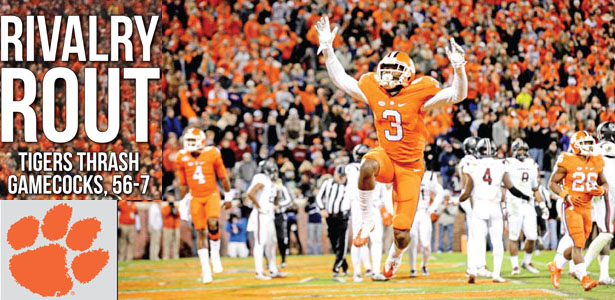 Kerry Gilstrap/Courier
Clemson receiver Artavis Scott celebrates after a touchdown against South Carolina on Saturday at Memorial Stadium.
By Scott Adamson
Courtesy The Journal
scott@upstatetoday.com
CLEMSON — Clemson and South Carolina players got into a minor shoving match about an hour before kickoff on Saturday at Memorial Stadium.
Once the clock started and the contest commenced, the Tigers pushed the Gamecocks all over the field.
Dabo Swinney's club raced out to a 35-0 halftime lead — outgaining Will Muschamp's crew 380-52 in the process — en route to a 56-7 Palmetto Bowl demolition before 81,542 fans at Death Valley.
It was the largest margin of victory ever for an ACC school over an SEC foe, and Clemson's third consecutive win in the series.
Deshaun Watson and Mike Williams did much of the early damage through the air, combining for three touchdowns, while Wayne Gallman rushed for 112 yards and a touchdown on 19 totes.
Watson finished 26-of-32 for 347 yards and a record-tying six touchdowns in a performance that likely put him back in the Heisman Trophy hunt. He is also the first Clemson quarterback to throw five touchdowns against South Carolina.
Kerry Gilstrap/Courier
Clemson backup quarterback Kelly Bryant, a former Wren Hurricane, stiff-arms a South Carolina defender during their game Saturday at Memorial Stadium.
"It's a great feeling," said Watson, who is 3-0 in the series after what was likely his last rivalry game against the Gamecocks. "That was one of my goals when I got here was to win this game every year.
"The coaches did a great job of making the game plan easy. We just saw what the defense was going to run, and we just found the open man."
Williams had three scores and an even 100 yards receiving.
"They tried to trash talk us, but we shut that down pretty quick," Williams said. "What we were preaching all week was going out and dominating them. We felt like watching them on film, we had the opportunity to go out and put up those type numbers, and that's what we did."
The win was a complete one across the board. By the end of the evening Clemson had 622 total yards and a staggering 41 first downs, all bests against its archrivals.
"I'm really proud of our team," Swinney said. "Every senior skill player had a touchdown tonight — Wayne Gallman, Jordan Leggett, Mike Williams and Artavis Scott. There were a lot of big moments. You have to give credit to our offensive line — they dominated the game. I'm proud of our staff and our team.
"And I'm really happy for our fans."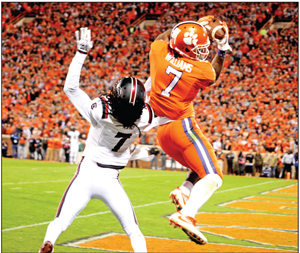 Defensively, Brent Venables' charges smothered South Carolina, harassing quarterback Jake Bentley and rendering the entire attack impotent for the better part of 60 minutes. In the end the team from Columbia could muster only 218 yards on 58 snaps.
Kerry Gilstrap/Courier Clemson receiver Mike Williams hauls in a touchdown pass in front of South Carolina's Jamarcus King during their game Saturday at Memorial Stadium. Williams caught three touchdown passes and had 100 yards receiving in the rivalry game.
"I thought we really complemented each other really well on both sides of the ball and, really, in all three phases," Venables said. "The guys really took it personally — the preparation — and really wanted to come out here the last game (at Memorial Stadium) and play this kind of game."
The result gives No. 4 Clemson (11-1) plenty of momentum heading into this Saturday's ACC Championship Game against Virginia Tech in Orlando, Fla., while South Carolina (6-6) is left to lick its wounds and await a bowl bid.
"Not a lot to say," Muschamp said. "We got beat tonight by a better team. I don't know what else to say. They have a good team across all three phases. We got whipped. On the road recruiting, that's the way we need to change our program."
Already up by five touchdowns, the Tigers took the opening drive of the second half and mowed down the Gamecock defense, going 66 yards in six plays. The last was a 16-yard touchdown aerial from Watson to former Easley High School star C.J. Fuller, and the extra point inflated the cushion to 42-0.
South Carolina got a consolation prize at the 11:24 mark of the third frame when Deebo Samuel hit Bryan Edwards on a 33-yard halfback pass that went for paydirt. Elliott Fry's PAT made it 42-7, but a comeback was hardly imminent.
In fact, the winners got those points back once they got the ball again, traveling 80 yards in 14 plays, with Scott finishing things off with a three-yard TD reception from Watson at the third stanza's 4:38 juncture.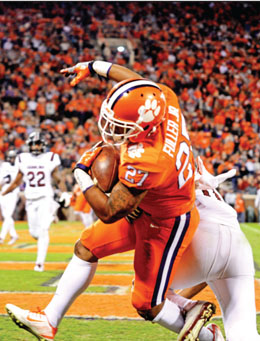 The Memorial Stadium tenants iced the cake 187 seconds from the end when Kelly Bryant scored on a one-yard run, climaxing a drive that chewed up 15 plays and more than seven minutes of clock.  "Our senior group is part of that 2014 group that drew a line in the sand and decided things were going to change after that streak where we lost several games, and I'm so happy for those guys," Clemson co-offensive coordinator Tony Elliott said. "They were challenged all week, and there were some words that were exchanged about how we played up front, so we took this one personally.
Kerry Gilstrap/Courier  Clemson running back C.J. Fuller, a former Easley High School standout, scores a touchdown on a catch from Deshaun Watson against South Carolina on Saturday.
"They blocked out all the distractions, played with balance and had the best performance we've had all season."
After South Carolina's opening drive ended with three incompletions and a punt, Clemson moved the markers with relative ease before its junket stalled at the enemy 22.
Greg Huegel was called in to attempt a 39-yard field goal, but his effort was blocked by Ulric Jones and the visitors had scored an early "win."
However, Bentley's first-down throw after the big play was picked off by Jadar Johnson, and Clemson was in business at the Gamecocks 47.
Three snaps later, Watson tossed a 34-yard touchdown to Williams on a beautiful throw-and-catch combo, and the kick made it 7-0 at the 11:08 mark of the first quarter.
It was rinse and repeat on the Tigers' next possession, this time with the QB and wideout combining on a 19-yard scoring play with 5:52 left in the first quarter.
It was Watson's 100th career touchdown contribution — 79 passing and 21 rushing — and it put the Gamecocks in a widening hole.
It also became a highlight-reel moment when Williams dragged defender Jamarcus King for the last seven yards of the play.
"I felt him on my back," Williams said. "I just wanted to take him for a little ride."
Watson threw his third touchdown pass in as many drives after Carolina suffered another three-and-out, and it was Leggett on the receiving end of an 11-yard scoring pass with 2:05 left in the first quarter.
The kick put the score at 21-0, and Muschamp's crew was on the canvas.
The scoring frenzy settled down a bit until 3:06 remained before the half.
That's when Gallman capped off a six-play, 45-yard drive with an eight-yard touchdown run.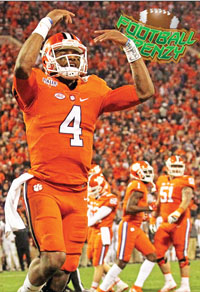 Huegel split the pipes, and at 28-0 the outcome of this one was settled.
"South Carolina likes to talk a lot of trash," Gallman said "They gave us their best shot, but we gave them ours. We're the king of this state."
Perhaps the biggest insult-to-injury, though, came with just 47 seconds left in the first half.
Clemson took over at its own 20 following a punt, and could've easily watched the bands come marching out with a comfortable 28-0 lead. Instead, Swinney's team kept its foot on the gas, going the distance in just 39 seconds and capping off the march with Williams' 16-yard touchdown reception — making him the first Tiger receiver ever to score three times against the Gamecocks.
That left the Tigers 30 minutes from a state championship — and owning an insurmountable 35-0 lead.
"We're (Atlantic Division) champs and state champs, and now we're looking to be ACC champs," Swinney said. "Virginia Tech will be tough, but we're looking for our 16th ACC title. There's still a lot of opportunity left for us. It's fun when you can see the finish line. We're going to empty our tank this week and get ready for a tough Virginia Tech team."