Tigers refocus after losing at Syracuse
By Alex Maminakis
Courtesy The Journal
alex@upstatetoday.com
CLEMSON — The No. 7 Clemson Tigers have had some time now to absorb their 27-24 loss to Syracuse on Oct. 13. They've watched the film, recognized their mistakes and lastweekend's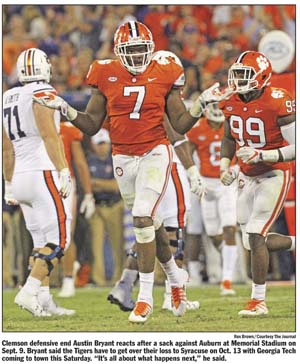 bye week gave them a chance to evaluate and move on.
"It hurt. We don't lose many games around here, so it's good that it does (hurt)," Clemson wide receiver Hunter Renfrow said last week. "For us, it's the bye week. That's what we're kind of looking forward to. A loss is a loss, we're gonna learn from it. Sometimes you learn more from losses than you do successes. We're doing a lot of internal evaluation and looking at how our season's gone so far through the first seven games and making the next five be the best they can be."
The loss at Syracuse was the first for the Tigers (6-1, 4-1 ACC) since last year's home loss to Pittsburgh, 43-42, on Nov. 12. Tiger fans know how Clemson responded after that loss, going on to win the ACC and eventually the national championship. That's not to say that this year's team will do the same, but Renfrow added that it is important for the Tigers to respond
You must be logged in to view this content.
Subscribe Today or Login