Tigers Reign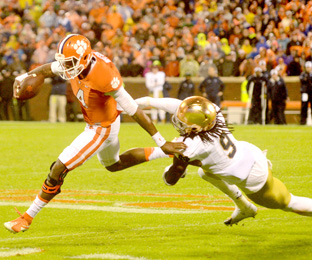 Kerry Gilstrap/Courier
Clemson quarterback Deshaun Watson gets past a Notre Dame defender during their game Saturday night at Memorial Stadium.
Clemson holds on for wet
win over No. 6 Notre Dame
[cointent_lockedcontent]By Rachel Eagleton
Clemson Athletic Comm.
news@thepccourier.com
CLEMSON — The No. 11 Clemson Tigers battled No. 6 Notre Dame through torrential rains from Hurricane Joaquin under the lights on Saturday night, but the wet weather did not hold the Tigers back in a hard-fought 24-22 victory in front of 82,415 fans at Memorial Stadium.
Head coach Dabo Swinney credited not only his team, but also the Clemson fans with the night's win.
"I am so proud of our team," Swinney said. "They played with a lot of heart and a lot of guts. First of all, I want to thank our fans — they were unbelievable. I told our team they showed up to make sure that we showed up. It was a magical night and definitely one I will never forget."
Sophomore quarterback Deshaun Watson led the Tigers to an explosive start, connecting with Jordan Leggett in the end zone on the first drive. The fire lit by Watson quickly caught on with the defense, allowing them to keep the Fighting Irish offense off the scoreboard early in the first quarter. Clemson took an early 14-0 lead with another Watson touchdown, this time on a 13-yard pass to Artavis Scott.
The remainder of the first half proved uneventful, even though C.J. Fuller recovered a fumble by the Fighting Irish. Watson came out to re-ignite the offense in the second half, running in a touchdown to put the Tigers up 21-3 early in the third quarter. The fire continued to grow under Clemson's defense with another fumble recovered by Jayron Kearse.
In three consecutive crucial moments for the Tiger defense, Clemson came away with a pair of recovered fumbles and ultimately survived on a two-point conversion stand with seven seconds remaining.
The Tigers' next matchup is Saturday against Georgia Tech at Memorial Stadium. Kickoff is set for 3:30 p.m., and the game will be broadcast on ABC/ESPN2.
[/cointent_lockedcontent]