Tigers show no signs of rust in 52-17 rout of Pittsburgh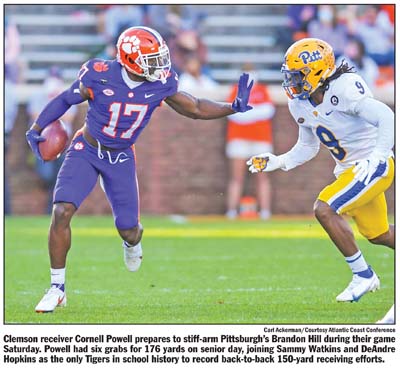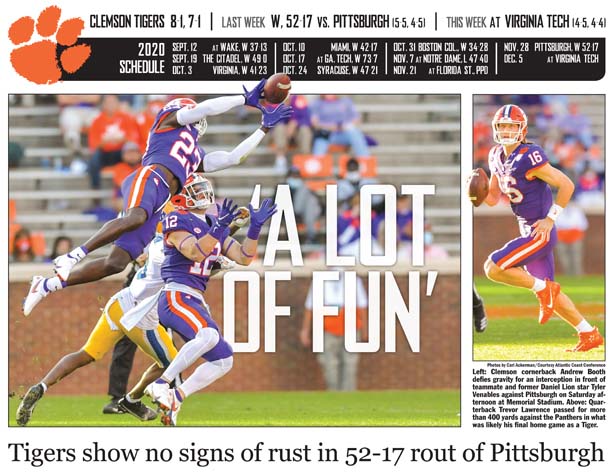 By Michael Crouchley
Courtesy The Journal
michael@upstatetoday.com
CLEMSON — It had been three weeks since the Clemson football team last played, but that would've been hard to believe on Saturday.
Outside of a shaky stretch at the start of the second half, the fourth-ranked Tigers (8-1, 7-1 ACC) didn't miss a beat after two consecutive weekends without a game, beating Pittsburgh 52-17.
"It almost felt like an opener all over again," Clemson head coach Dabo Swinney said. "The last couple weeks have been a challenge, but that has made us better coaches and made us a better team. … Our guys were just so excited to play, and it was just an awesome game."
Saturday's senior day win cemented Clemson's senior class as the first class in program history to go undefeated at Memorial Stadium.
"What an incredible career these guys have had — it's been a lot of fun coaching them," Swinney said.
Trevor Lawrence had missed even more than three weeks heading into Saturday's game. Clemson's star quarterback hadn't played since Oct. 24 after a positive COVID-19 test forced him to miss Clemson's games against Boston College and Notre Dame, but he didn't show it against the Panthers (5-5, 4-5).
Lawrence threw for 402 yards and two touchdowns in what was likely his last game at Memorial Stadium.
"Trevor has actually made me a better man, and he's made me look like a better coach," Clemson offensive coordinator Tony Elliott said. "He hadn't played for five weeks and he came out and threw for 400 yards and led our team. … I think he's the best player in the country."
On the other side of the ball, Clemson's shorthanded secondary was key in stopping Pittsburgh's offense, led by quarterback Kenny Pickett. Even without cornerbacks Derion Kendrick and Sheridan Jones available, the Tigers intercepted Pickett four times, including three in the first quarter.
"Guys stepped up," Swinney said. "I'm really proud of how they competed today."
The secondary produced big time straight from the opening kickoff when freshman Malcolm Greene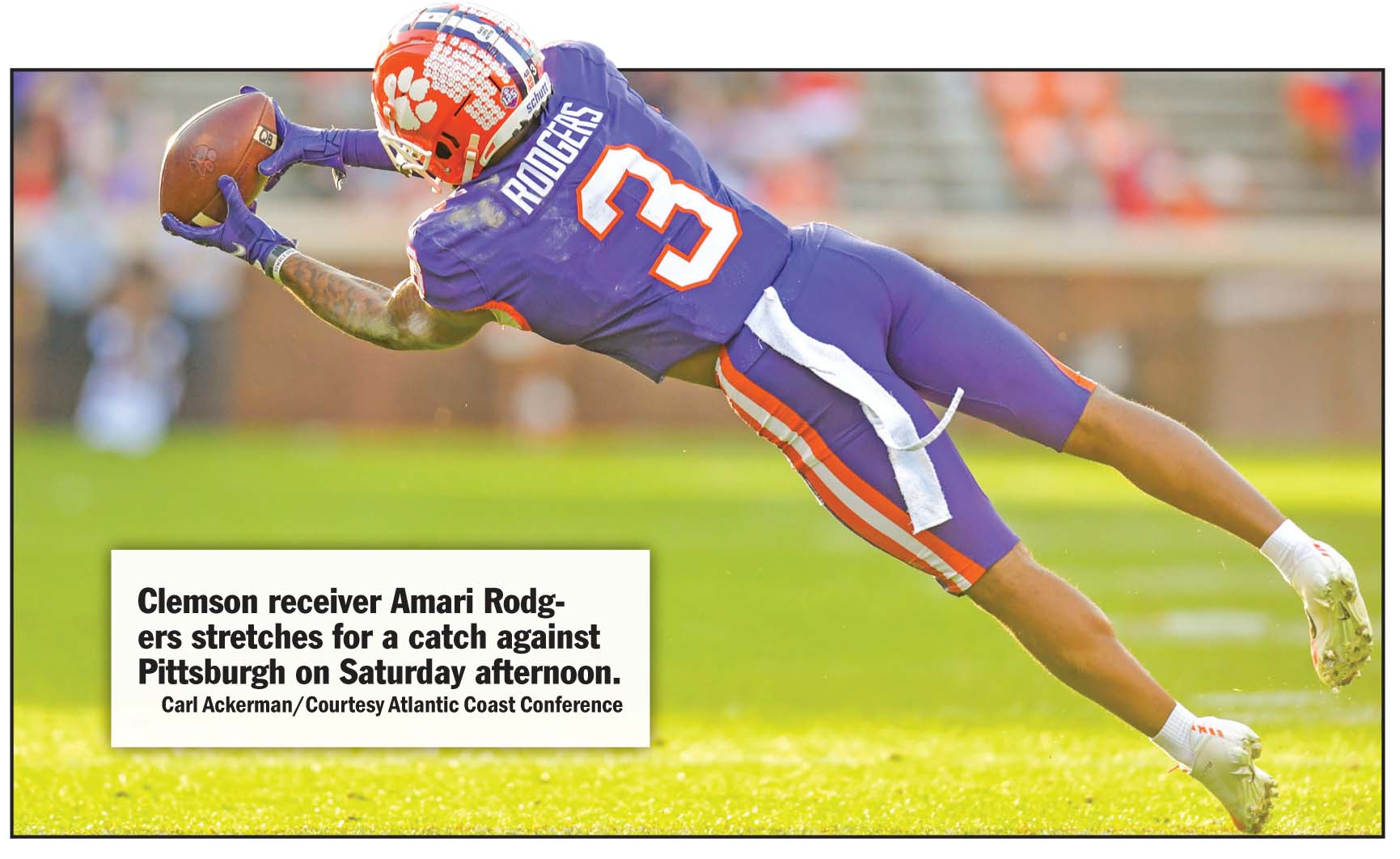 intercepted Pickett's pass deep in Pittsburgh territory on the first drive of the game.
It was another freshman who got it done on the ensuing drive when wide receiver E.J. Williams caught a five-yard touchdown pass from Lawrence to open the scoring.
After Clemson extended the lead to 10-0 with a 46-yard field goal from B.T. Potter, Pittsburgh got the ball back, but the Panthers didn't keep it for long. A Pittsburgh flea-flicker resulted in Pickett's second interception of the game, with Andrew Booth diving in to catch the pick.
Clemson ran a flea-flicker of its own when it got the ball back, but to much greater success, as Lawrence found Cornell Powell over the top of the defense for a 43-yard touchdown pass.
Powell, a redshirt senior, has had a breakout year, and he continued to impress on Saturday — finishing the game with six catches for 176 receiving yards.
"Every week that goes by, he continues to put in the work," Elliott said. "He got an opportunity in camp, and he hasn't looked back. I'm just really proud of him."
Pittsburgh's next drive resulted in Pickett's third interception of the first quarter, with Mario Goodrich getting in on the action this time. Clemson turned the interception into a two-yard touchdown run from Travis Etienne.
A one-yard touchdown run from Lyn-J Dixon extended Clemson's 31-0 lead, capping off a school-record high-scoring first quarter.
"We talked about setting the tone early and we did that — the first quarter was just dominant," Swinney said.
Pittsburgh got on the scoreboard early in the second quarter with a 23-yard field goal from Alex Kessman, but Clemson hit back immediately after a 70-yard pass from Lawrence to Powell put Chez Mellusi in position to punch it into the end zone from two yards out.
An 18-yard touchdown pass from Pickett to Jordan Addison cut Clemson's lead to 38-10, and that score held until halftime.
On the first play of the second half, Pittsburgh sacked Lawrence, forcing a fumble. Pittsburgh recovered the fumble, scoring seven points on the ensuing drive thanks to a touchdown pass from Pickett to Vincent Davis, cutting Clemson's lead to 38-17.
Clemson was able to regain some breathing room just before the end of the third quarter. Lawrence found Braden Galloway — a former Seneca High School star — for a 35-yard pass to put the Tigers at the 3-yard line, and Etienne found the end zone on the next play, extending the lead to 45-17.
Clemson continued to pull away in the fourth quarter, as Goodrich's second interception of the game gave Clemson the ball. Backup quarterback D.J. Uiagalelei — who started each of Clemson's last two games — found Mellusi for a nine-yard touchdown pass with 10:49 to play in the game.
That touchdown gave Clemson a lead 52-17 lead it held for the remainder of the contest.
"It was a wonderful day for some Clemson football," Swinney said. "We were efficient and explosive. We've still got some work to do, but we're much improved."
Clemson will close its season out at Virginia Tech this weekend, with the game set to kick off at 7:30 p.m. on ABC.