Tigers shut out Ohio State to earn national championship rematch
Rex Brown/Courtesy The Journal
Clemson defensive end Clelin Ferrell celebrates after a big play against Ohio State Saturday in the Fiesta Bowl. Ferrell was named the game's defensive MVP as the Tigers earned a trip to Monday's College Football Playoff National Championship Game.
By Scott Adamson
Courtesy The Journal
scott@upstatetoday.com
GLENDALE, Ariz. — Ohio State detractors — those who thought the Buckeyes didn't belong in the College Football Playoff after failing to even win their division in the Big Ten — might have felt vindicated on Saturday night.
In a Fiesta Bowl that was, for all practical purposes, over by halftime, Urban Meyer's team was thoroughly dismantled by Clemson, 31-0, in a CFP semifinal at University of Phoenix Stadium.
But this contest in the desert was less about the No. 3 Buckeyes (11-2) failing and much more about the No. Tigers (13-1) succeeding.
After turning in one of the finest defensive performances in school history — and putting up more than 400 yards of total offense — Dabo Swinney's charges would've delivered an epic beatdown of many teams they might've lined up against on New Year's Eve.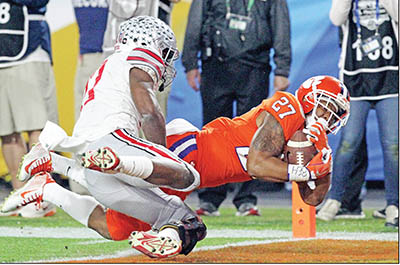 Rex Brown/Courtesy The Journal
Easley High School product C.J. Fuller had the biggest catch of his Clemson career in Saturday's Fiesta Bowl, hauling in a 30-yard touchdown with an Ohio State defender in his face.
With every win of this magnitude, the program adds to its credentials as one of the elite programs in the Football Bowl Subdivision.
"We've been ranked up there in the top five for a long time, so I definitely think that the narrative has changed with our program," Swinney said. "But it still seems like we're always the underdog when we get in these big-type games for whatever reason. But until you win one, there's really only one thing for us to do. We've done about everything that you can do multiple times. But we haven't been able to win it all.
"But you gotta get yourself in position to do that. And so now hopefully we can be a little more consistent with these opportunities and find a way to get it done.
The victory over Ohio State sets up a national championship game rematch with Alabama on Monday in Tampa, where the Tigers will try to deny the Crimson Tide a second consecutive No. 1 finish and avenge a 45-40 loss in January.
Alabama punched its ticket with a 24-7 victory over Washington in the Peach Bowl on Saturday afternoon in Atlanta.
"We get an all-expenses-paid trip to Tampa to play Alabama," Swinney said. "So that's going to be another tough week of preparation to get ready to play the best team in the country in Alabama. They've earned that. But you can best believe we're going to show up. And we're going to lay it all on the line, and see if we can find a way to finish."
Brent Venables' defense was the biggest star in the Fiesta Bowl, and Kendall Joseph and Clelin Ferrell shined the brightest — with the pair spearheading a unit that thwarted Ohio State quarterback J.T. Barrett and company at every turn.
Rex Brown/ Courtesy The Journal Clemson quarterback Deshaun Watson was named offensive MVP during Saturday's Fiesta Bowl win over Ohio State.
"That was a great team," Barrett said. "They played hard. I mean, this was unexpected — we didn't see that coming by any means. We expected to win the game."
Joseph closed the game with eight solo tackles, and Ferrell had a sack and three tackles for loss — all at extremely opportune times.
"We didn't really have any illusions they wouldn't score a point," Swinney said. "We just wanted to have one more than them. But great preparation. Great preparation. Coach V and our staff, nobody works harder at preparing. Ben Boulware and Kendall and those guys up front, the leadership of Carlos (Watkins), Christian Wilkins, Jadar (Johnson), Cordrea (Tankersley). I mean, these guys are great leaders, and they're fully committed to being the best they can be.
"And they were highly motivated and excited to go play the game. We knew we had a lot to prepare for and thankful that we had a little extra time, but it all goes back to preparation and buy-in and commitment from those players."
The Buckeyes' backs were smothered from start to finish (save for a 64-yard fourth quarter jaunt by Curtis Samuel), and the passing attack never materialized. By the end of three quarters, the Big Ten reps had rushed for a total of 25 yards.
By the end of the game, they totaled just 215 yards and nine first downs.
Deshaun Watson, now 31-3 as Clemson's starting quarterback, won MVP honors. He was 23-of-36 for 259 yards and a TD, although he did also throw a pair of first-half interceptions.
"If I throw a pick or make a mistake, I'm not going to shy away and not throw it," said Watson, whose first pass of the game was intercepted. "I'm going to take my chances, take my shots. I feel like the bigger the risk, the bigger the reward. I have guts and have that trust in my arm and in my receivers."
Leading 17-0 at halftime, Clemson put the game out of reach with a 7-yard touchdown run by Watson with 2:06 left in the third quarter.
And at 24-0, the only question was whether or not the Tigers could blank the Buckeyes.
They could.
Samuel's big run, which put Ohio State in the red zone, was negated by backward yardage — and a fourth-down pick and 86-yard return by Van Smith flipped the field dramatically.
Combined with a personal foul on the interception return, it set up a two-play, 7-yard "drive" that ended with a Wayne Gallman touchdown run with 8:51 to go.
The lowest point total by a Meyer-coached Ohio State team was 14 coming into the Fiesta Bowl. He had never before been shut out in 194 games as a head coach.
"Defensively, really, just indescribable," Swinney said. "They only had seven first downs the whole game, which is a season low for them. We were dominant up front and had 11 tackles for loss."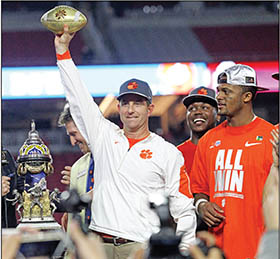 On Clemson's second snap of the game, Watson was picked off by Ohio State's big-league corner, Gareon Conley, putting the Buckeyes in business at the Tiger 33.
Rex Brown/ Courtesy The Journal
For the second consecutive year, Clemson coach Dabo Swinney will lead the Tigers to a showdown with his alma mater, Alabama, in the College Football Playoff National Championship Game.
But Venables' defense pushed OSU back, forcing a 47-yard field goal try by Tyler Durbin that missed wide right.
Swinney's crew got on the board on the next series with a 45-yard field goal by Greg Huegel.
A 37-yard pass from Watson to Williams put the Tigers in scoring position, but the drive bogged down short of the red zone.
Durbin missed another 47-yard kick moments later — this one wide left — and the first quarter seemed destined to be defined by defense.
However, the Tigers found their rhythm on the ensuing drive, moving 70 yards in 10 plays and wrapping up a successful scoring journey with a half-yard scoot from Watson.
The kick made it 10-0 at 2:16 of the opening frame.
The next score came roughly 15 minutes later, and it put the ACC champs in firm control.
Moving 83 yards in eight plays, Watson sparked the drive with a 33-yard run, and then hit C.J. Fuller on a 30-yard TD pass with 2:08 left in the half.
Huegel kicked true, and a 17-0 lead was much more than the winners would need.
With that conquest in the books, the Tiger players and coaches will now give Alabama their full attention.
"I haven't been watching film on them because we've been focusing on the next opponent," Watson said late Saturday night. "But if you ask me at the next media thing in Tampa, then I could give you some answers (on Alabama)."
Clemson and Alabama (14-0) will meet at 8 p.m. Monday at Raymond James Stadium.