Tigers strike early, often against SCSU
By Scott Adamson
Courtesy The Journal
scott@upstatetoday.com
CLEMSON — No. 5 Clemson got a big win, South Carolina State got a big check, and the football world (as seen through eyes of Tiger faithful) returned to normal on Saturday at Memorial Stadium.
Dabo Swinney's team was practically unstoppable in the opening half, racing out to a record-setting 31-0 lead in the first quarter en route to a 59-0 thumping of their Football Championship Subdivision foes.
By the time the winners did make a mistake — Greg Huegel had a worm-burner field goal attempt blocked with 3:43 left before intermission — the cushion had already inflated to 45-0. At that point, some fans decided to beat the heat and take the party back to the parking lot or the house.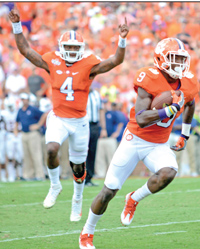 Even the coaches realized this was a contest that needed to end early. Swinney and S.C. State boss Buddy Pough agreed to trim the third and fourth quarters to 12 minutes each.
The game was little more than target practice for Deshaun Watson and his teammates, who delivered the knockout blow early and continued to punch the Bulldogs after they were long out of the fight. When the final horn sounded, 92 Tigers had seen action.
Kerry Gilstrap/Courier
Clemson quarterback Deshaun Watson celebrates as running back Wayne Gallman gets outside the South Carolina State defense for a touchdown on Saturday at Memorial Stadium.
"Today was a great day," Swinney said. "It's hard to play 92 guys and still get the shutout, I don't care who you're playing. I'm so proud of our guys. They played a clean game for four quarters today. This was great for our team, for our spirit and our morale. It was great to get out there today and go play."
The margin of victory against an outmanned, lower division foe might not completely quell the concerns of fans who sweated out close calls against Auburn and Troy, but it was a good workout for the hard work ahead.
Swinney and company have a short week to get ready for a road trip to Georgia Tech on Thursday.
The Yellow Jackets improved to 3-0 on Saturday with a 38-7 victory over Vanderbilt.
Louisville, which routed No. 2 Florida State, 63-20, on Saturday, comes to Death Valley on Oct. 1.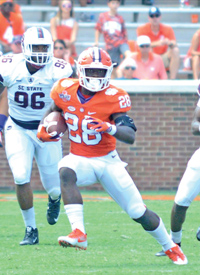 The rout was on quickly at Frank Howard Field, as the first drive of the day ended with Watson throwing a 7-yard TD pass to Ray-Ray McCloud at the 11:33 mark of the first quarter.
Wayne Gallman tacked on the next points with a 3-yard run on Clemson's second possession, with the kick putting the score at 14-0 with 5:20 to go in the first.
It was 21-0 before the clock ever moved again; S.C. State return man Ahmaad Harris caught a kickoff in the end zone and flipped the ball back to the referee without bothering to take a knee.
Kerry Gilstrap/Courier
Clemson freshman running back Tavien Feaster scored a touchdown and led the team with 83 yards rushing against South Carolina State in his first meaningful action on Saturday.
The ball was live, safety Denzel Johnson covered it, and things had gone from bad to worse for Pough's team.
"We've traveled all over the world, we've made a few bucks, and now we have it behind us," Pough said. "We knew why we did it, and let's hope that it has us ready to play on our level. I was concerned that Clemson had not played that well on offense and was afraid at what might happen. I knew that was a bad sign."
After 30 minutes, Clemson had already racked up 319 yards, with Watson going 12-of-15 through the air for 152 yards and three scores. Those were his final numbers on the afternoon.
"I'm pleased overall, and I was really happy for those guys being able to get back to who they are," Clemson co-offensive coordinator Tony Elliott said. "They were having fun, and the offense was really in rhythm coming out of the gate. What I saw was a lot of guys who were excited about other people's success, and that was one of the trademarks of the offense we had last year — that chemistry and excitement."
Elliott's other half in offensive game planning, Jeff Scott, said the (more than) point-a-minute attack was just what the team needed. After subpar performances against Auburn and Troy, everything finally clicked.
"Everybody had to look at themselves and refocus," Scott said. "Last week they had distractions, they weren't having fun, and this week we said, 'Hey, put that stuff away and let's just go out there and have fun because when we have fun, we play at our best and execute.' That's exactly what happened."
Clemson's 31-point output in the first quarter was the most ever for a Tiger team in an opening frame, and after 54 minutes they owned 555 total yards while limiting S.C. State to 102.
Five different players had sacks for Brent Venables' defensive unit.
"Coming into the game we wanted to play a clean and complete game and be good on the technical side of things," Tiger defensive end Clelin Ferrell said. "I think we did that."
Swinney was already subbing liberally early on, allowing backup QB Nick Schuessler to impress with a 4-for-5 stat line for 64 yards and a TD pass.
McCloud had four catches for 60 yards and two touchdowns — all before the S.C. State band came marching out.
The shortened second half was largely uneventful, although the home team did tack on two more TDs courtesy of five-star freshman Tavien Feaster (4-yard run) and Trevion Thompson (a 7-yard TD toss from Kelly Bryant).
Feaster finished with 83 yards on 12 carries to lead a ground game that amassed 227 yards.
"I'm glad that we're 3-0," Swinney said. "The 'preseason' is over now, and we have eight straight conference games. We have a quick turnaround this week and we have a lot of work to do to get ready for Georgia Tech."