Tornado touches down
Storm leaves damage in wake
No injuries reported, but homes destroyed
By Greg Oliver
Courtesy The Journal
goliver@upstatetoday.com
COUNTY — A tornado touched down in Pickens County on Sunday afternoon, causing damage to homes and power outages, the National Weather Service confirmed Monday.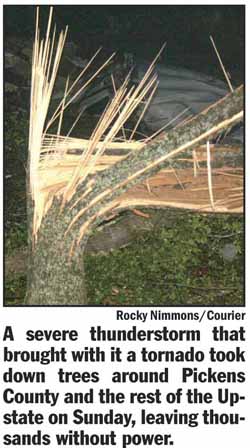 Weather officials said the EF2 tornado had winds of 130 mph and was one of four tornadoes that touched down across the Upstate on Sunday.
Pickens County Emergency Management director Denise Kwiatek said homes in the Norris area sustained major damage.
"A lot of it was on Robinson Bridge Road and Jule Merck Road," Kwiatek said. "It took a lot of time (Sunday night) to get Robinson Bridge Road open, removing a lot of trees."
Kwiatek added that the American Red Cross arrived Sunday to help residents whose homes were impacted by the tornado.
"No shelters were opened, but the Red Cross gave vouchers to those affected to get them out of the rain and into a warm place," she said.
Central Fire Chief Ed Reynolds, whose department had two crews responding to the Norris area, said there were at least 20 homes, possibly more, that
You must be logged in to view this content.
Subscribe Today or Login