Tri-County introduces Tech grad Aman as new campus police chief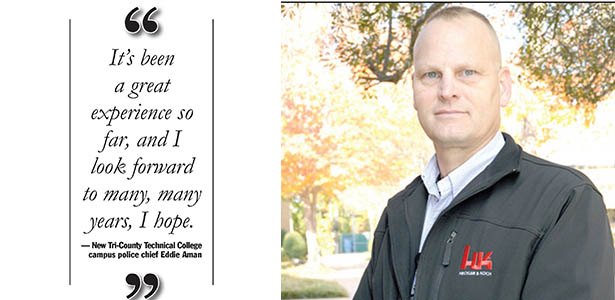 A 20-year law enforcement veteran and graduate of Tri-County Technical College's criminal justice program, Eddie Aman has been named the new chief of campus police for the Pendleton college.
By Greg Oliver
Courtesy The Journal
goliver@upstatetoday.com
PENDLETON — Tri-County Technical College has turned to a 20-year law enforcement veteran to serve as its new chief of campus police.
Eddie Aman, who previously served as captain of special operations for the Anderson City Police Department prior to joining Tech, was introduced at a recent college commission meeting.
"It's been a great experience so far, and I look forward to many, many years, I hope," Aman said.
Aman told commissioners one of his major responsibilities is to "look out for people who want to come to campus and do harm."
A graduate of Tech's criminal justice program who attended on the GI bill after serving in the U.S. Marine Corps from 1990-94, Aman said he wants to establish a good working relationship with the nearby Pendleton Police Department, as well as law enforcement agencies throughout the area.
"Relationships, for us, are very, very important because officers, ultimately, in our satellite offices, are alone and need support from our sheriff's departments," Aman said. "We have created memorandums of understanding and are ready to distribute them to law enforcement agencies in the area."
After earning his associate degree from Tech and later graduating from the South Carolina Criminal Justice Academy, Aman initially worked for the Calhoun Falls Police Department. Less than a year later, he was transferred to the Anderson City Police Department, where he worked for nearly five years. During his stay, Aman worked as a patrolman, canine handler, narcotics investigator and recruiter.
In 2008, Aman was promoted to lieutenant over the Anderson City Patrol Division's alpha shift, then to captain in 2010, and remained until being hired by Tech a month ago.
In addition, Aman served as adjunct professor at Tri-County Technical College from 2006-10 and also taught criminal justice at Anderson University. At the time he was hired by Tech, Aman was serving as Captain of Special Operations for the Anderson City PD.
Aman, who also earned his bachelor's and master's degrees in criminal justice from Anderson University, was named TCTC's CRJ Alumni of the Year and received the adjunct instructor of the year award from Anderson University in 2016. He also received the FBI Law Enforcement Executive Development Association Trilogy Award and completed the Law Enforcement Executive Program at N.C. State University in April of this year.
Aman said he feels his plan to protect the satellite Tech campuses "is going well."
"We have an approved officer present all day," Aman said. "We have reclassified one person from security to law enforcement, and having someone there first shift, second shift and when campus opens is important."
Not only is Aman dedicated to his law enforcement career, he is also devoted to his family. A scoutmaster of Boy Scouts of America Troop 84, Aman and his wife, Dana, a teacher at T.L. Hanna High School in Anderson, have three children: Lindsey, 19, Ashley, 16 and Jackson, 14. The family lives in Anderson.
Commission chairman Butch Harris congratulated Aman on his new position.
"I think you're going to be a good fit for this college," Harris said. "We look forward to working with you."