Turnovers help Wave roll through Patriots
By Eugene Jolley
Courier Sports
ejolley@thepccourier.com
EASLEY — Playing perhaps their best overall game of the season, the Easley Green Wave clinched third place in Region I-5A Friday night with a 55-7 senior night win over J.L. Mann.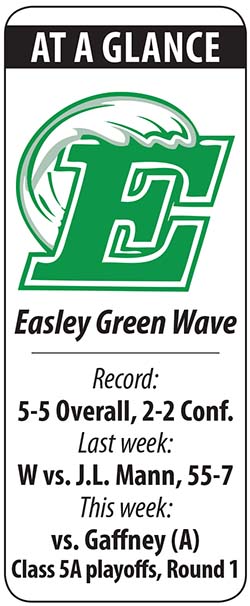 The Mann offense acted like Oprah Winfrey and treated the Green Wave defense to numerous gifts: "You get
a turnover! And You get a turnover! Everybody gets a turnover!" The Patriots turned it over seven times, including four times in the first half.
"It was good to get that many turnovers," Easley coach John Windham said. "They were having a little trouble with some of their snaps early on and we got some turnovers, which was good. It was a good win, no doubt. I was glad the seniors got to go out and have some fun tonight."
In addition to the turnovers, it was a big night for some Easley seniors.
Three plays into the first Patriot series, Easley senior defensive tackle Matt Cronin, following a high snap, pushed quarterback Rico Mattison away and fell on the
You must be logged in to view this content.
Subscribe Today or Login