Two charged with stealing more than $2k in merchandise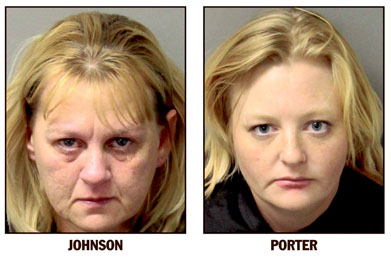 WALHALLA — Two Pickens County women were arrested last week and charged with shoplifting more than $2,000 worth of items at the Wal-Mart in Seneca.
Amy Michelle Johnson, 40, of Watts Road in Liberty, and Stephanie Dawn Porter, 33, of Latham Road in Easley, were arrested on Jan. 7. Warrants charging them with shoplifting allege the two stole 36 miscellaneous items with a value of around $2,282.19.
Oconee County Sheriff's Office public information officer Jimmy Watt said a deputy responded to the Wal-Mart store at around 7:12 a.m. Jan. 7 in reference to a shoplifting in progress.
Watt said a female store employee told police she discovered the women in a stall in the bathroom of the store with opened merchandise packages on the floor.
After receiving consent to search two separate bags, the deputy discovered several stolen items in both bags, including a cellphone, several phone cases and several clothing items. In addition, one of the bags was allegedly stolen. Deputies also said Porter had taken a buggy with a car seat into the bathroom stall as well.
Johnson and Porter were each being held Tuesday at the Oconee County Detention Center on $5,000 surety bonds.