Upstate Legends Jeep Club gives back to the community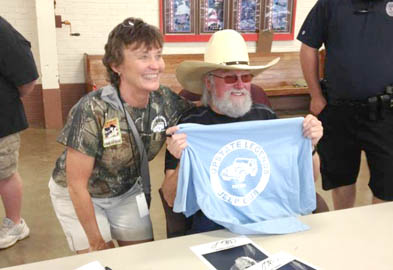 Upstate Legends Jeep Club member Cindy Kelly presents Charlie Daniels with a ULJC t-shirt during a recent concert in Seneca. 
UPSTATE — Since 2010 the goal of Upstate Legends Jeep Club has been to promote the love of Jeeps and Jeeping, honor the legacy of Larry Hinkle, and be a positive influence on the community.
For three years the club has grown and they have been able to give back in many ways. The group has been involved in many events this year, from cruise-ins to pleasure rides and fundraising.
Each month the club has an activity planned for members, and in many cases there are multiple events. This year alone has allowed the club to participate in many worthwhile events. In May, the club began fundraising for the American Cancer Society with a cruise-in at Lake Keowee Chrysler Dodge Jeep Ram, their corporate sponsor. Members participated in the Relay for Life in Liberty to help increase their donations. They also kicked off the Memorial Day weekend festivities in Seneca for the event featuring Charlie Daniels as 50 Jeeps rolled into the event decorated patriotically. Most recently, the group was again selected as the official transport vehicles for the Honoring Their Service program. For the past two years, the group has had the honor of driving the Marines from Easley to Keowee Key as the Patriot Guard lead the way.
"We are very fortunate to have been given this opportunity," club co-founder Terri Cassell said. "It is very humbling to have these young men and women riding with you and hearing their disbelief of all the support they see as they ride by. They are overwhelmed and quite surprised. Many have no idea what is waiting for them when they head this way from Camp LeJeune, N.C."
Co-founder Gary Robinson agreed.
"It takes months of preparation, and a tremendous amount of coordination between everyone, and the dedication of our club members involved for this to happen," he said. "When the Marines board your Jeep, all of the 'organized chaos' settles down and it becomes both a rewarding and humbling experience for our drivers to be part of Honoring Their Service."
The culmination of the year so far has been the Pickens Cruise-in and Music on Main held June 22.
"This is where it all started for us," club co-founder Roger Cassell said. "We asked for email addresses of those interested in doing day rides and trips. We got 34 names and addresses, and today we have 335 that we email on a regular basis. We had approximately 145 jeeps from ULJC at the event this year, and we continue to steadily grow. Laramie Hinkle told me it would grow, and he was right."
This year the Cruise-in was fortunate to have Larry Hinkle there again. He is the icon for Jeeps in Pickens County.
In addition to all of the community involvement the group has, members also take time out for their annual Gatlinburg trip in October. This year will be the third annual trip across the Blue Ridge Parkway; traveling the same route Larry Hinkle led his group for many years. The club led the first organized trip back to Gatlinburg since Hinkle closed his Pickens dealership in the mid 1980s. The group meets and will leave Save-A-Lot in Pickens on Friday, Oct. 18, and travel across the Blue Ridge Parkway with several planned stops for photo opportunities, restrooms and a gas stop in Rosman and Cherokee before the final leg of the trip.
The club makes its return trip Sunday evening, Oct. 20.
"The fall ride over the parkway has always provided us with spectacular scenery, from snow and ice covered trees to brilliant fall colors," Robinson said. "There will be a planned club activity, but with plenty of personal family time together and shopping also.
"Every year this keeps growing larger than the year before, and we're looking forward to another great trip this year. Everyone with their Jeep is welcome, whether they are in our club or not."
For additional information about the Club or the Gatlinburg Trip, Upstate Legends Jeep Club can be contacted via their website at www.upstatelegendsjeepclub.com or upstatelegends@gmail.com.