Upstate teen receives Bennett Community Service Scholarship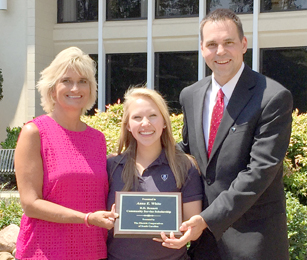 UPSTATE — Anna White, 16, of Cleveland, is the recipient of the 2015 Robert D. Bennett Community Service Scholarship presented by The Electric Cooperatives of South Carolina Inc., the trade association for South Carolina's independent, not-for-profit electric cooperatives.
The $5,000 college scholarship is presented to a student who completes a community service project that best exemplifies the cooperative principle of "concern for community."
White, who is a senior at Hampton Park Christian School in Greenville, applied for the scholarship after being chosen by Blue Ridge Electric Cooperative to represent the co-op this summer on the 2015 Washington Youth Tour, a week-long trip to our nation's capital, where students learn about government and its relationship to the nation's cooperatives.
White's winning community service scholarship, "Heart and Sole Running and Reading Club," helped a group of girls from Miracle Hill Children's Home learn the value of physical fitness while also helping them improve their reading skills and self-esteem.
"I'm working with teenage girls, many of whom were abused," White said. "The purpose of the club is to strengthen them physically and to give them self-confidence that will empower them to make better life choices."
White raised money — more than $600 and counting — to buy running equipment and books for the girls. She then held weekly sessions with the teens to exercise, discuss books and hold devotions and prayer.
"Anna's project had the perfect name, because she really did put her heart and soul into the effort to help these young ladies," said Van O'Cain, director of public and member relations for The Electric Cooperatives of South Carolina Inc.
The project is continuing this fall, with White tutoring the girls weekly to help them prepare for the SAT/ACT examinations.
"All of these girls have big dreams," White said. "I want to help them achieve their dreams.
The $5,000 scholarship is named for Robert D. Bennett, the first general manager and executive vice president of The Electric Cooperatives of South Carolina Inc. Bennett, who led the state association from 1950 until his retirement in 1980, strongly believed electric cooperatives should support their local communities, providing a better quality of life for their members. His spirit of community service is reflected in this scholarship opportunity.