Warriors Whipped CHECK OUT THIS WEEK's FRENZY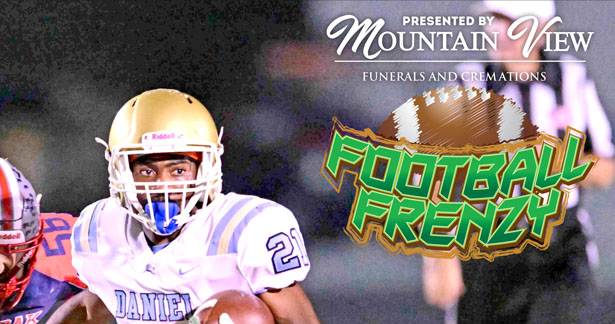 The D.W. Daniel Lions remained unbeaten, crushing West-Oak 56-0 last Friday.  Liberty got a clutch victory over Blacksburg 33-29 as time expired. The Easley Green Wave stalled out as Easley to a tough Greenwood team 24-7, while the Pickens Blue Flame continued to struggle, falling to Westside 52-7. On Saturday, the Clemson Tigers lacked consistency on office is 17-12 win.
All this and so much is waiting for you to see in this week's Football Frenzy sponsored by Mountain View Funerals and Cremation and only available each week in the pages of the Pickens County Courier. Don't miss the very best high school football coverage in the area as Courier Sports Editor Bru Nimmons leads his experience staff of reporters and photographers in bringing you all the action.  Do miss a single issue by subscribing to the Pickens County Courier today. Just go to yourpickenscounty.com or give us a call and get your Courier started. ONLY $36 a YEAR for in county residents or read the entire section right here by clicking the link below and subscribing to our digital edition.
You must be logged in to view this content.
Subscribe Today or Login