Wave blast Mann to close regular season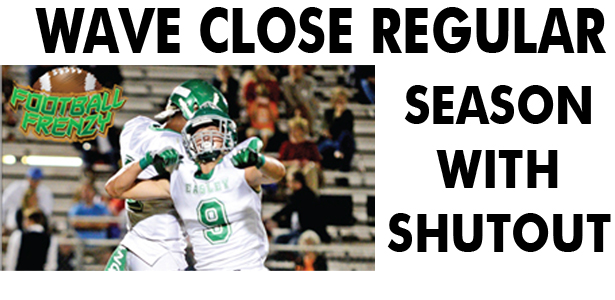 By Eugene Jolley
Courier Sports
ejolley@thepccourier.com
GREENVILLE — Easley wanted a fast start Friday night at J.L. Mann, and the Green Wave got exactly that, scoring touchdowns on two of their first three plays from scrimmage in a 35-0 win.
The win earned the Green Wave third place in Region I-5A, and they will play at Greenwood, the runner-up in Region II-5, in the first round of the state playoffs on Nov. 18.
"We had a quick start and got ahead 14-0 with two big plays," Easley coach John Windham said. "I was glad to see it. It's always good to get off to a good start, and we wanted to do that."
Add to the fast start a relentless defense that picked off three passes to set up three scores and recovered a fumble, and it was a good night for the Green Wave. The defense also sacked Mann quarterback Will Phillips four times.
Easley (5-5, 2-2 Region I-5A) got the scoring started on the first play from scrimmage. Senior tailback Will Drawdy shot up the middle and then bounced right. Receiver Bralan Fuller threw a sealing block that paved Drawdy's way down the Easley sideline for a 72-yard touchdown with 11:41 left in the first quarter.
It didn't take long for the Green Wave to light up the scoreboard again. On the second play of the next series, quarterback Weston Black fired left to Fuller, who won a battle with Mann's Joques Byrd as he slipped down. Fuller then took it 85 yards for the score with 9:17 left in the first quarter, making it 14-0.
The Patriots (1-9, 0-4) converted three times on fourth down before fumbling at the 29 on their next possession. Justyce Austin recovered for the Green Wave.
Easley couldn't convert, as Black was sacked on third down.
Late in the first half, the defense came up big. Safety Sean-Thomas Faulkner had sacks on two plays, once teaming with Dorian Robinson. Then, on third down, Voc Tabron picked off a Phillips pass at the 39 and returned it to the Mann 4-yard line.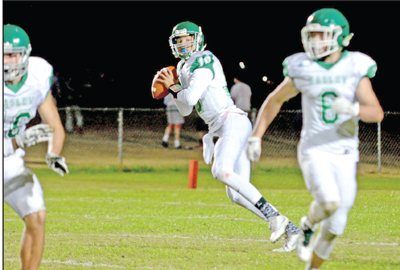 Kerry Gilstrap/Courier
Easley quarterback Weston Black drops back to pass against J.L. Mann on Friday night.
Three plays later, Green Wave fullback Carter Wiles took it in from a yard out with 4:17 left in the half, making it 21-0.
For Easley, Wiles has moved from tight end to fullback, giving the Green Wave a more balanced attack than the three- and four-receiver sets of early in the season.
"We want to be multiple," Windham said. "We just want to make sure we didn't beat ourselves. We want to make sure we can do some of the fundamentals well, and we have been working on that. We want to be a team that is multiple."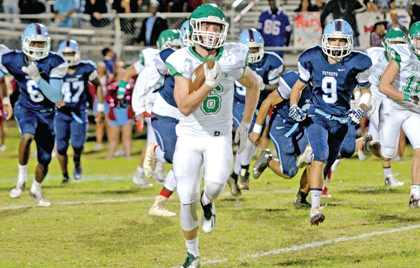 Kerry Gilstrap/Courier
Easley senior Will Drawdy breaks free for a 72-yard touchdown on the first place from scrimmage against J.L. Mann on Friday night.
The defense wasn't done there, as Deandre Byrd picked off a pass at the Green Wave 25 and returned it to the Mann 40.
Then aided by a roughing the passer penalty, Easley scored when Black found Drawdy in the right flats. He dove for the end zone and got the signal for a 17-yard touchdown with 20.4 seconds left in the opening half, giving the visitors a 28-0 lead at the break.
"Those guys really played hard," Windham said of his defense. "We play a lot of people on defense. They hung in there and did a really nice job."
Easley held Mann to just one first down in the second half, and that came on the Patriots' final possession. Quenten Phillips and Dylan Lyda had a sack each, and El-Asia Muhammad sealed the shutout with a late interception.
The final score was set up by Faulkner, who picked up a punt late and returned it 32 yards to the Mann 18. Two plays later, Black found Isaiah Ferguson on a fade pass to the left side with 11 minutes left, making it 35-0.
In Greenwood, the Green Wave will face a former region rival.
"We've definitely played some of those teams, and they're all quality teams," Windham said of Region II. "There is some familiarity there for sure."
The Green Wave will have two weeks to prepare for the Eagles.
"We will practice a little bit," Windham said. "We will have a team meeting Monday and see who we play and we'll go from there. It won't be completely off, but it will be reduced a little bit — kind of like a bowl game."