Wave move forward during 2016 season
EASLEY — Led by second-year head coach John Windham, the Easley Green Wave finished 2016 with a losing season at 5-6, but the Wave did have a chance to take a try at the 5A playoffs with a trip to old nemesis Greenwood. Even though that trip did not end as hoped, it was a step in the right direction for Easley.
The season began with high expectations for Windham's Green Wave, having more than 100 players working hard in the preseason. Some key losses made the Wave fall short of reaching all their goals, but making the playoffs was on that list, and that they accomplished.
Easley started the season with a bang, pounding its No. 1 rival Pickens 14-0. Rivalry games are often decided by big plays. The game with Pickens was no exception, as Easley made the most of three huge plays in winning for the sixth consecutive time over the Blue Flame in the two teams' season opener.
Easley got the first big play of the game following a Pickens interception by Robert Jones at midfield, as two plays later, Pickens quarterback Tanner Stegall rolled right and was picked off by safety Darius Jamison, who returned it 60 yards for the touchdown. The Wave added a TD in the second half to ice the contest.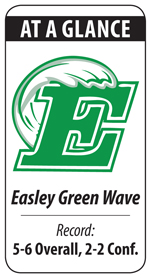 "Darius Jamison just got a good break on the ball and made a good run after the play," Easley coach John Windham said. "That was a big play. We certainly needed it."
Next up was a trip to Central to battle it out with another county rival, Daniel. As the Wave led 28-10 to start the fourth quarter, Windham's squad appeared poised for an impressive road victory.
However, the fourth quarter was all Daniel, and the Lions eked out a one-point victory in a strange 29-28 game. With more than two hours of delayed time brought on by an injury to a Daniel player in the third quarter and a lengthy lightning delay soon after, Easley's momentum — and 18-point lead — evaporated in a span of 12 minutes, leaving Windham far from pleased.
Asked post-game about what effect the lengthy weather-related delay had on his team, Windham said, "Not a good one, obviously. (Daniel) had the same delay. We just didn't handle it well. We didn't play very good the last 12 minutes."
Following the loss to Daniel, the Wave returned home to host Belton-Honea Path in game three of the season. A home crowd, lively atmosphere and raucous student section seemed to give the Wave the upper hand, but the visiting Bears did not let it overwhelm them. A young BHP squad improved to 3-0 with two late scores en route to a 42-28 victory, overcoming the Green Wave's pregame advantages with big plays and gritty fourth-quarter determination.
Wren was next up for Windham's bunch, and Easley was ready for the Golden Hurricanes as they blew into to town. With a galloping 83-yard kick return for a touchdown in the final five minutes of the game, Easley senior Will Drawdy elicited a deafening roar from the fans inside Green Wave Stadium, sealing his squad's 49-32 win in the rivalry matchup and evening the Wave's record at 2-2.
Easley had to hit the road the following week to do battle with the Seneca Bobcats. It was a battle underneath a blood moon on an Upstate Friday night, and the Bobcats came away with a 12-7 victory.
In a rather sloppy contest that featured its fair share of offensive struggles, the Bobcats were able to hold off an Easley drive in the dwindling moments to secure the win.
Even in the midst of a beautiful evening, the play on the field for both squads was quite ugly during the opening quarter. The first 10 drives of the game featured four punts, two interceptions, two lost fumbles, a turnover on downs and a blocked punt.
The following week, injuries, 90 yards in penalties and Greenville's knack for big plays were not enough to stop the Green Wave on homecoming against the Red Raiders. One kick was all it took to help Easley overcome a host of seemingly insurmountable issues and walk away with its third victory of 2016.
Nathan Baker's 30-yard field goal with less than 15 seconds remaining handed the Red Raiders their first loss of the 2016 season, securing a 30-28 comeback win for the Green Wave.
Region play started the following week for the Green Wave, as the always-tough T.L. Hanna Yellow Jackets came a-calling.
The Green Wave dropped to 0-1 in the Region I-5A race with a 37-26 loss to the young but talented and gritty Yellow Jackets.
A relatively close game broke in Hanna's favor early in the fourth quarter. A fourth and 10 first-down completion seemingly helped the Yellow Jackets' running game suddenly find its footing, but an interception to end an Easley drive deep into Hanna territory turned the tide for good. In the game's final eight minutes, the Yellow Jackets compiled 119 of their 175 total rushing yards, a statistic that was definitive of the momentum that carried Hanna to victory.
If Easley's first region road game against Westside was a boxing match, it may have been stopped early after a flurry of blows by the Rams in a 46-7.
Kerry Gilstrap/Courier
Easley senior Carter Wiles fights for yardage during the Green Wave's loss to Belton-Honea Path in September.
Westside scored in a variety of ways, thanks in part to some mistakes on special teams by Easley. The Green Wave struggled on special teams throughout the night, particularly on three plays that led directly to points for Westside:
• A high snap on an Easley punt was recovered at the Green Wave 10. The Rams scored two plays later.
• Another punt was partially blocked and returned for a score that was negated by penalty. The play set up another Ram scoring drive.
• Then in the second half, a dropped punt snap was pushed out of the end zone for a safety. To compound matters, Westside's K.D. Fant-Miles returned the ensuing free kick 70 yards for a touchdown.
Westside also added another non-offensive score when outside linebacker Vic Garrett made a leaping interception and returned it 11 yards for a score. Garrett had already batted down two passes before the pick.
"It really did snowball. They're a really good team, and we gave them a short field," Windham said. "Their kid made a great interception there. You can't do that — I think it was like a 21-point swing right there which we were not able to overcome. They're a really good team."
Following the beatdown by Westside, Easley got a week off to regroup and get ready for Woodmont. With the Green Wave needing a win to stay in position to earn a playoff spot, the Easley offensive line did its part to pave a smooth road in that direction.
That road was enough footing for the Wave to amass 336 yards rushing on the way to a 38-14 victory over the previously third-place Wildcats.
Easley's 25-member senior class made the most of its final home game when Woodmont came to town. Drawdy took advantage of the work of his offensive line, rolling up 244 yards rushing and finding the end zone once. Senior Carter Wiles saw his first action at fullback and ticked off 76 yards, with two touchdowns. Senior Derrick Phillips also rushed for a score, while senior Bralan Fuller added a receiving touchdown.
"This was a great way for our seniors to go out at home," Windham said. "I am very proud of those guys. They are very deserving."
Easley had one game remaining, a region matchup on the road at J.L. Mann the following Friday. A win would wrap up third place in the final region standings for the Green Wave, while a loss would create a three-way tie for the final two playoff spots.
Easley knew was on the line and wanted a fast start against the Patriots, and the Green Wave got exactly that, scoring touchdowns on two of their first three plays from scrimmage in a 35-0 win.
"We had a quick start and got ahead 14-0 with two big plays," Windham said. "I was glad to see it. It's always good to get off to a good start, and we wanted to do that."
Kerry Gilstrap/Courier
Senior running back Will Drawdy led the Easley rushing attack this season and helped lead the Green Wave to the Class 5A playoffs in their first year in the new division.
Add to the fast start a relentless defense that picked off three passes to set up three scores and recovered a fumble, and it was a good night for the Green Wave. The defense also sacked Mann quarterback Will Phillips four times.
The win earned the Green Wave a trip to play at Greenwood, the runner-up in Region II-5A, in the first round of the state playoffs on Nov. 18.
The Wave had to wait two weeks to get the playoffs underway with a trip to face the Eagles. Greenwood pulled away for a 31-7 win, putting an end to the Green Wave's season. Easley finished the season with a 5-6 record.
"It's the first time we've been to the playoffs in three or four years," Windham said. "I'm very proud of everything the seniors have done for Easley. They've played well. We had a very competitive team this year. I would have loved to have kept playing, but it didn't go our way tonight."
As for the future, Windham was optimistic.
"I think we have a lot to build on," he said. "We have some good guys coming back. We've just got to continue to work hard, keep developing and keep getting better."