Wave pull away from Mann to end three-game skid
By Eugene Jolley
Courier Sports
news@thepccourier.com
EASLEY — Needing a win badly, the Easley Green Wave scored 28-second half points to beat J.L. Mann 42-24 for a 2019 homecoming win on Friday.
The Wave were reeling entering the contest, having lost three straight before taking on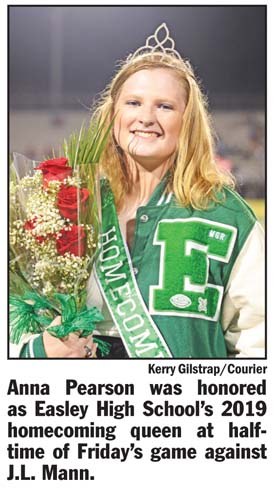 the winless Patriots. And despite what the final may indicate, the win did not come easy, with Mann hanging tough early in the contest.
"The best thing was that we were able to execute better," Easley coach Caleb King said. "We were able to do some things that we've been wanting to do. The kids really have bought in and have kept working hard.
"We've got to cut down on penalties. I mean,
You must be logged in to view this content.
Subscribe Today or Login