We were lucky-County avoids major issues from heavy rainfall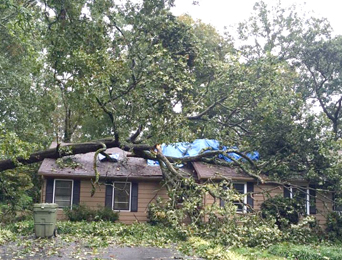 Photo courtesy Sue Nodine
A fallen tree rests atop a home in Clemson in the aftermath of the weekend's storms. Although much of the state was devastated by flooding and other rainfall-related issues, Pickens County was mostly spared from major damage.
By Eric Sprott
Courtesy The Journal
esprott@upstatetoday.com
COUNTY — With only a handful of exceptions, Pickens County residents were were counting their blessings after rain moved out of the area Sunday afternoon.
They faced only relatively minor inconveniences compared to the devastating flooding that has occurred in the Midlands and Lowcountry that's led to at least 14 deaths throughout the state.
Blue Ridge Electric Cooperative and Duke Energy officials said Monday all customers who had lost power in the area had their service restored.
Joshua Palmer, a meteorologist at the National Weather Service's Greer office, said area rainfall totals — which were projected up to 10 inches — fell well short of expectations, as the weather system largely spared the area.
"What ended up happening was we really had intense rainfall develop to our south across Columbia and Charleston, and fortunately for us, and unfortunately for them, the moisture was extracted out of at the atmosphere down there more efficiently than it was here," he said. "Unfortunately for them, they got catastrophic flooding and a life-threatening situation that's still ongoing now.
"We were very fortunate here in the Upstate that it wasn't worse, because the catastrophic rainfall that was received was just to our south and east. I would say we definitely dodged a bullet."
Pickens County was spared for the most part, though a tree fell on a home on Pendleton Road in Clemson, while another house in Clemson suffered damage to its garage due to a fallen tree.
The NWS reported Clemson received 4.49 inches of rain, while the highest reported total in the county was 6.12 inches.
No injuries were reported in either case, Pickens County emergency director Denise Kwiatek said, adding there was "no major flooding" in the county.
Clemson public works director David Conner added there were nearly a dozen additional trees that fell in roadways, and it may take several days to remove all the debris.
"It's been going pretty good out there," he said. "We've been getting some wind, which dries the ground, but hope it doesn't blow any more trees down.
"We were lucky, very lucky that we didn't get what they did in Charleston and Columbia."
In a news release, it was announced the South Carolina Botanical Garden — which was closed Friday through Sunday due to the weather — sustained little damage from the rains and reopened Monday at 10 a.m.
The garden sustained some road erosion and several downed trees, and some new exhibits received damage, but it paled in comparison to the rain event of July 2013, when it suffered hundreds of thousands of dollars' worth of damage after receiving 9 inches of rain in just four hours.
Central fire chief Ed Reynolds, meanwhile, said there were no power outages in the area, and apart from a minor one-car accident, there was nothing major to report.
"We were very quiet," he said. "We had one or two trees that blew over roads, but nothing to report from flooding or damage."
That was a welcomed relief for Central, which got a reported 4 inches of rain Thursday that resulted in flash flooding, notably on Eighteen Mile Road near Jerry's Pizza.
"We were very lucky," Reynolds added.
Nearly two feet of rain fell in other parts of the state, and West Columbia fire chief Wyatt Coleman told The Weather Channel on Monday morning he believed up to 100 people were still trapped in their Columbia homes due to floodwaters.
According to NWS figures, reporting stations in the greater Columbia area received anywhere between 11.26 to 15.46 inches of rain.
At least 14 people in the Palmetto State have died due to the weather, and the Red Cross was operating 26 shelters across the state as of Monday morning.