Weather balloons to get view of eclipse 110K feet above Clemson
CLEMSON — The best view of next week's solar eclipse over Clemson just might be from the stratosphere, 110,000 feet above campus, where two weather balloons from the University of Maine will float overhead and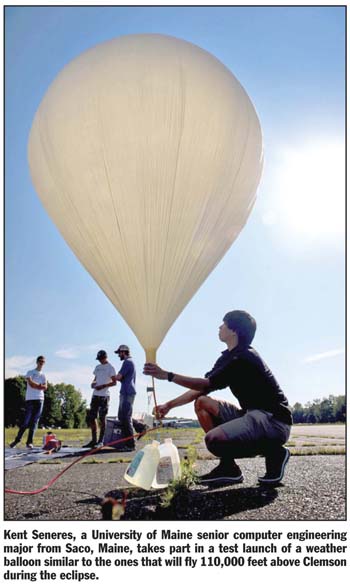 livestream the eclipse back to Earth.
The University of Maine contingent, including engineering professor Rick Eason and a dozen students, is part of the NASA-sponsored project "Great American Eclipse." Students from 55 teams nationwide will share the aerial footage on NASA's website.
Clemson University is in the center of the roughly 70-mile path of totality, meaning the eclipse will happen directly above campus, with the eclipse creating near-total darkness. UMaine is collaborating with Montana State University on the project.
Montana Space Grant Consortium director Angela Des Jardins said it's
You must be logged in to view this content.
Subscribe Today or Login