WeatherSTEM donates weather station for use at Clemson Memorial Stadium
CLEMSON — Real-time weather data and images from the top of Clemson University's Memorial Stadium now are available online from a new weather station.
Florida-based WeatherSTEM donated the weather station to Clemson and 10 other Atlantic Coast Conference universities.
"The goal is to create an interesting intersection between education and health and safety," WeatherSTEM founder Ed Mansouri said.
Mansouri said WeatherSTEM started two-and-a-half years ago when he was working with the Florida Virtual School, an online k-12 school. He installed a weather station to bring meteorology and agriculture curriculum to the school and make data available to teachers of math and science.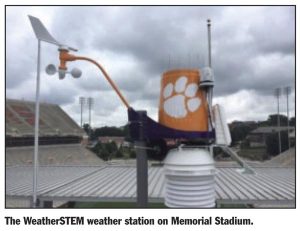 An emergency manager at Florida State University saw a story about it and realized it had potential uses at his school. Another was installed at the University of Miami after a presentation about WeatherSTEM at an ACC emergency managers conference. "We agreed to bring this program, in the spirit of philanthropy, to all Atlantic Coast institutions," Mansouri said.
The tiger paw-painted weather station at Memorial Stadium has live streaming cameras, radar and data it displays online at http://pickens.weatherstem.com/clemson
 and on iPhone and Android apps, Facebook and Twitter.
Images captured during a 24-hour period are stitched together every day to form a time-lapse view of the sky as weather changes. Data, such as rainfall, barometric pressure and wind speed, are collected and can be downloaded for specific periods.
Mansouri said teachers can pull data from the weather station to use in their classrooms. "Our main focus at the end of the day is we're an education and health and safety company," he said.