Welcome to the 39th annual Azalea Festival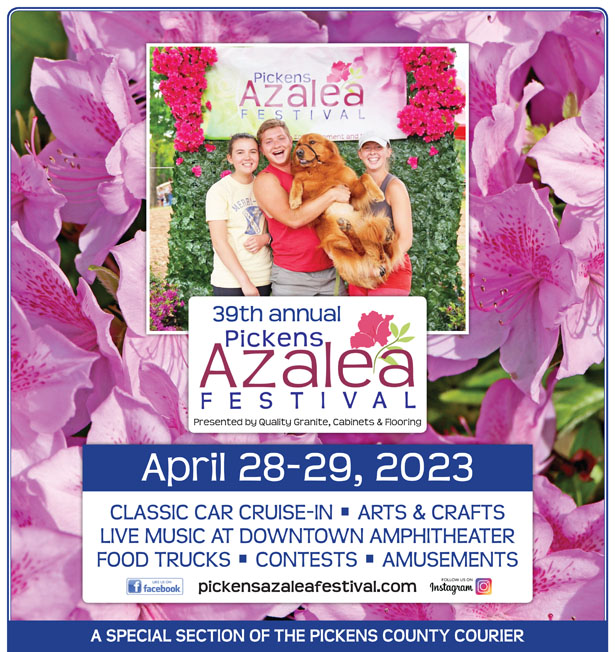 "When the Azaleas are blooming in Pickens, South Carolina, the little town celebrates!"
For 39 years, Pickens has celebrated spring by throwing an arts and entertainment based and family-friendly celebration — the Pickens Azalea Festival.
Each April, the Azaleas bloom, artisans and crafters come out, and the community joins together to celebrate spring in the city of Pickens. Celebrating is exactly what they do! Presented by the Pickens Azalea Festival Committee and hosted by area nonprofit and civic organizations, the Pickens Azalea Festival boasts the largest gathering of crafters, artisans and entertainers in the county, and quite possibly the Golden Corner!
The Azalea Festival is also somewhat of a large family reunion, giving people who have been away too long the chance to return and to visit with old friends and family. The streets are filled with local artists and crafters, exciting and varied food vendors and quaint little shops and eateries. Strolling downtown Pickens during the festival is certainly an exciting and fun-filled activity.
The festival gives those who have never visited an opportunity to experience this great area during one of the best times to explore and experience all Pickens County has to offer!
National, regional and local musical artists entertain, while local artisans and crafters inspire. Foodies will enjoy regional favorites, and the kids will laugh as they partake in the children's ride area.
Come browse one of the largest cruise-ins in the area and enjoy all that Pickens has to offer! For those who are interested in more physical activity, the annual Pickens Women's Association 5k is held annually in conjunction with the Pickens Azalea Festival. History buffs will enjoy self-guided tours through historic Pickens or enjoy a short drive to the many historic places in and around Pickens County.
There is something for everyone to enjoy each spring at the Pickens Azalea Festival!