Westside shuts out Wave in big region-opening win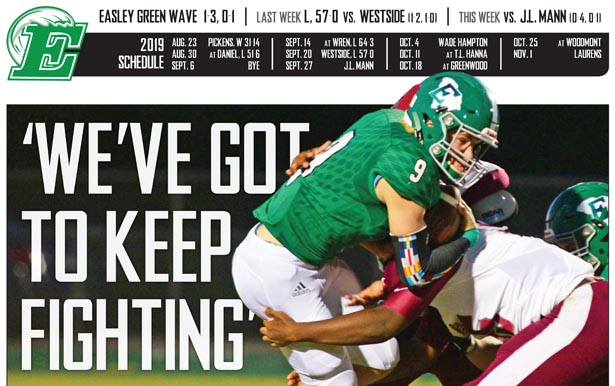 By Eugene Jolley
Courier Sports
news@thepccourier.com
EASLEY — Easley High School football coach Caleb King talked during summer workouts about Westside possibly being the region favorite.
Friday night at Bill Carr Stadium, the Rams did nothing to reject King's feelings, as Westside rolled to a 57-0 win over the Green Wave in the teams' Region I-5A opener.
Easley just couldn't stop the Rams, led by senior quarterback Blair Garner, a Palmetto transfer. It was Garner's rushing that kept the Green Wave defense on its heels all night.
"I think they are extremely talented and a well-coached team," King said. "They did a great job tonight. We've got to keep getting out of our own way. You see improvements in every facet of the game here and there. But the biggest thing is that we've got to stop beating ourselves on little things. We get some stops and then we turn it over. You can't do that. We definitely cut them down from last week as far as turnovers go. But we still didn't turn them down enough. Again, that is something that we're going to have to overcome."
Garner rushed for 140 yards on 13 carries as Westside amassed 533 yards of total offense. Backs Tyeim Williams-Dean (17-125) and Hunter Puckett (11-118) also eclipsed the 100-yard rushing mark.
Westside hadn't played in two weeks, as the previous week's home game with Daniel
was cancelled due to storms. The Rams had lost to Greer (36-28) and to Boiling Springs (24-10) in their first two games. Westside definitely did not look like a winless team.
The Rams opened the game by taking advantage of a short field, driving 37 yards to the 1-yard line. Then came a play that has typified Easley's three-game skid. Garner fumbled and the Wave had two shots at making the recovery, but somehow the Rams recovered at the 8-. They scored two plays later.
Easley got another first down on the next series when Kasten Harvey's pass to Adam Brumfield was caught despite a big hit at the 36. The drive stalled, and Malachi Calhoun hit a spiraling 63-yard punt into the end
You must be logged in to view this content.
Subscribe Today or Login