Easley softball starts season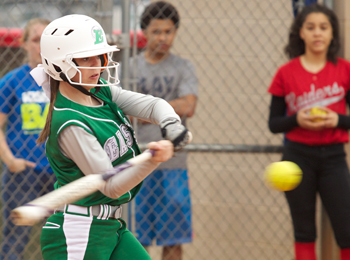 Robert L. Bradley/Photo
Easley High School's Taylor Waldrop concentrates on the ball to hit a double in the second inning against Greenville last week. Easley defeated the Lady Red Raiders 21-3. Easley then defeated Wren Monday night 3-1 to improve to 4-2 on the season.
EASLEY — After opening the 2015 season with a disappointing loss to Hillcrest, the Easley High varsity softball team rebounded with a resounding 21-3 victory over Greenville last week. Easley had defeated Pickens twice and lost to West-Oak in a preseason tournament at Liberty High.
Easley opened this week with a 3-1 win over rival Wren to move to 4-2 on the season and was set to finish a three-game homestand with games against Hanna on Tuesday and Westside on Wednesday.
The Lady Green Wave will play in the Byrnes tournament this weekend at Tyger River Park in Duncan on Friday and Saturday. Easley travels to Lauens next Tuesday for a key Region 1-AAAA game.
Liberty Tournament
Easley opened the tournament with a 7-4 victory over Pickens before losing to West-Oak 2-1. The Lady Green Wave were matched again against Pickens in the consolation final and won 9-1.
Sydney Patterson had five hits (two doubles) and Taylor Waldrop four to lead Easley in the three games. Hannah Gravely added three hits and three runs batted in, with Patterson and Isabel Durham also driving in three runs.
Jade Hendricks and Hunter Everett each picked up wins in the circle. Neither allowed an earned run in the wins over Pickens.
Hillcrest 8, Easley 5
Easley jumped on the Lady Rams for five runs on five hits in the first inning, but the Lady Green Wave had just four hits the rest of the game as Hillcrest rallied for an 8-5 win to open Region 1-AAAA play.
Hannah Gravely, Sydney Patterson and Kelsey Garrett opened the game with consecutive singles. Mattison Trammell hit a fly ball to the outfield that was dropped to score Gravely, with Patterson being thrown out at the plate also trying to score.
A two-run double by Taylor Waldrop plated two runs and Isabel Durham followed with a home run for a 5-0 Easley lead.
Hillcrest chipped away at the deficit with two runs in the bottom of the first and one in the third. The Lady Rams tied the game with a pair of runs in the fourth. Back-to-back doubles in the fifth pushed three more runs home for Hillcrest.
Easley had just one base runner over the final three innings.
Easley 21, Greenville 3
The Lady Green Wave scored seven runs in the first inning and never looked back en route to the region victory. The Lady Green Wave sent 15 batters to the plate to score nine runs in the third inning. Easley had 12 hits and took advantage of eight Greenville walks and another seven errors by the Lady Red Raiders.
Hannah Gravely led Easley at the plate with three hits while Isabel Durham, Jade Hendricks and Hadley Greer each had two. Taylor Waldrop and Robin Bradley each added a double for Easley.
Graveley, Mattison Trammell, Waldrop and Hendricks scored three runs for Easley, Patterson, Durham, Bradley and Greer scored two each. Gravely, Kelsey Garrett, Trammell, Waldrop and Greer each had a pair of RBI.
Hunter Everett was the winning pitcher with a one-hitter over the final three innings. She did not allow a run and walked one with one strikeout. Isabel Durham had five strikeouts in two innings of work to start the game.