Wife enters guilty plea in killing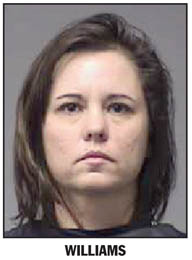 PICKENS — A Dacusville woman pleaded guilty to murder and conspiracy charges in the January shooting death of her husband last week.
After taking a negotiated plea deal on Friday, Crystal Gail Williams, 35, will serve a sentence of life without parole for her part in the Jan. 26 killing of Shane Williams. She was also sentenced to up to five years for the conspiracy charge.
Authorities have alleged Williams and Marcus Channing Johnson, 36, planned the killing in an attempt to collect on a $250,000 life insurance policy. Police have alleged Johnson fired the shots that killed Shane Williams.
Johnson was scheduled to appear for a bond hearing Friday, but waived his hearing. According to 13th Circuit solicitor Walt Wilkins, Johnson, who faces charges of murder, criminal conspiracy to commit murder and possession of a weapon during a violent crime, was offered the opportunity to take a negotiated plea deal as well, but rejected it.
As a result, Wilkins said, the state will seek the death penalty against Johnson when his case proceeds to trial.
Wilkins told judge Leticia Verdin on Friday that investigators had found discrepancies in Williams' interviews in the days following her husband's death.
Williams told police she and her 10-year-old son had heard two shots fired in the early-morning hours of Jan. 26, then ran into the living room to find her husband lying on the floor.
"An investigation discovered that the co-defendant had fired shots three times," Wilkins said. "Five total shots were fired in advance — three of which struck the victim."
Police also said the investigation revealed Williams and Johnson had been corresponding via cellphone and other messaging apps before the shooting.
Wilkins said Williams had planned for Johnson to enter the home by leaving the door unlocked, allowing him to hide in the living room.
"She said she would ask her husband to go outside and collect wood for the stove, which wasn't unusual for them," Wilkins said.
Wilkins said Johnson shot Shane Williams when he re-entered the home after collecting the wood.
Police later discovered a weapon in Johnson's home that forensic tests determined to be the murder weapon.
When Verdin asked her if the events described by Wilkins were true, Williams said they were.
Williams' attorney, Dorothy Manigault, told Verdin her client had expressed "remorse and sorrow."
"She just doesn't know why she did something like this," Manigault said. "Even in the family's testimony, they said that was unlike her, because she is quiet. They were in total and absolute shock that she would engage and conspire to do something like this.
"She is very sorry, but understands it doesn't bring back a life. She understands this not only put people in their family in great sorrow, but also put her son in great sorrow."
Shane Williams' father, Michael, read a handwritten statement before the court, describing him as "a dedicated son, brother, father, husband and friend to many."
"God was first in Shane's life — he served as a Sunday School teacher, a deacon and also sang in the choir," he said. "He was a hard worker and had a giving spirit."