Woman struck, killed by train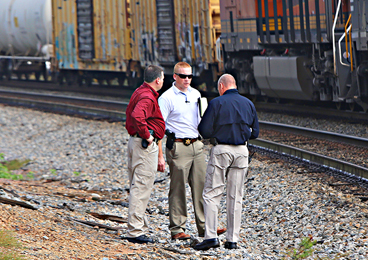 Jessica Nelms/Courtesy The Journal
Investigators are still working to determine the circumstances surrounding the death of a woman hit and killed by a Norfolk Southern train in Central on Friday.
CENTRAL — A woman was hit and killed by a train as she walked on the tracks Friday morning in Central.
Annjuanginissa McMillen, 34, of 700 Simpson Road in Anderson, was walking on the tracks when she was struck by the train just before 11 a.m., according to Pickens County coroner Kandy Kelley.
Kelley said McMillen was pronounced dead at the scene from blunt force trauma.
Pickens County Sheriff's Office chief deputy Creed Hashe said police received a call from Norfolk Southern officials that one of their trains had been involved in a collision with a pedestrian walking on the tracks behind Mt. Zion Cemetery just off S.C. Highway 93.
Hashe said there were no indications of foul play, suicide or alcohol playing a factor in the incident.
Investigators have been talking to family members and others to try to determine why McMillen was walking along the tracks and didn't move when the train was coming.
"We are waiting on toxicology reports from SLED, and that could take anywhere from six to eight weeks," Hashe said. "We may never know exactly why she was on the train tracks at the time of the accident, but we hope these efforts will provide us with some possibilities.
"We know the individual died from the collision, but hope the toxicology reports will provide information as to other factors that may have contributed."
The investigation into the accident is ongoing.
Greg Oliver of The Journal in Seneca contributed to this story.