Woman who killed children pleads not guilty by reason of insanity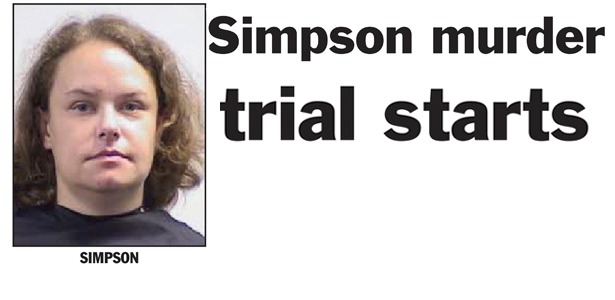 PICKENS — Although her defense attorney admitted to a jury that she fired the deadly shots, a Dacusville woman charged in the 2013 shooting deaths of her two youth children entered a plea of not guilty by reason of insanity during the opening day of her trial Monday.
Suzanna Brown Simpson was 35 when she shot and killed 7-year-old Carly and 5-year-old Sawyer and tried to kill her husband, Michael, on May 14, 2013. She was charged with two counts of murder, one count of attempted murder and one count of possession of a weapon during a violent crime.
An investigation into a single-vehicle accident that injured Simpson led to the discovery of the victims on the morning of the shootings.
According to 911 calls released by the Pickens County Sheriff's Office in the days following the shooting, a neighbor was the first to respond to the accident, which happened a short distance from the Simpsons' Cherokee Trail home.
The neighbor told a dispatcher that the driver of a pickup truck had driven over some trees and run off the road into a ditch. He said the driver didn't know where she was or who she was and had been knocked unconscious.
In a second call, the neighbor gave the first indication that there was more to the case than a simple accident, telling the dispatcher "something's not right here."
"The lady that wrecked is my neighbor, and I've never seen her this early in the morning," he said. "Her husband's truck and the other car is still in the yard. I can't get her husband or kids to the door. She's got two little kids, like 5 and 7.
"Something's not right, and she can't tell me because she don't know. She's talking away. She don't know what's going on, but we need somebody here to check this house."
After medical officials and deputies arrived at the scene of the accident, deputies visited the Simpson home, finding the children shot dead in their beds and the father in serious condition with at least one gunshot wound to the head.
According to warrants, officers said Simpson told EMS personnel "OK, OK, I shot my whole family."
The warrants also said Simpson was transported to Greenville Memorial Hospital, where she told an ER nurse, "I shot my kids, then my husband and tried to shoot myself several times, but couldn't do it."
The nurse, John Conway, testified Monday on the opening day of Simpson's trail. He told jurors Simpson told him she shot her children because she "didn't want them to live in this awful world."
Conway also said Simpson told him she tried to kill herself, first with a gun, then by crashing her truck into a tree.
Public defender John Mauldin told the jury Simpson was suffering from bipolar disorder that was sparked by post-partum depression, as well as bouts of paranoia.
Solicitor Walt Wilkins, however, claims Simpson knew right from wrong at the time of the shootings and should be convicted on all charges. Wilkins said the state is not seeking the death penalty in the case.
Judge Brian Gibbons is presiding over the trial, which is expected to last through this week.