Worth 1,000 words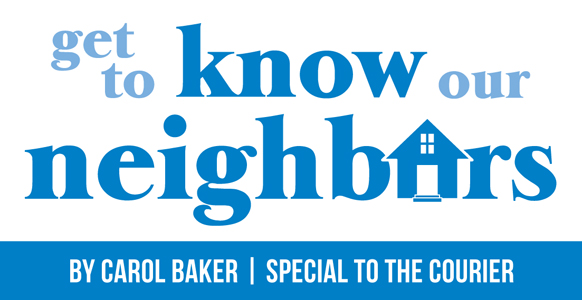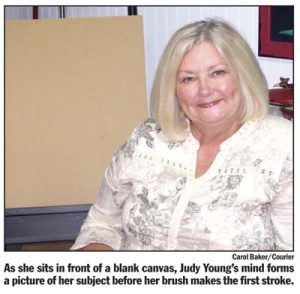 Judy Aiken Young is an artist. She has never taken any art lessons. She did not need to. She has an extraordinary talent to paint.
She began to draw and paint at a very early age. She said she remembers when she was just about 4 years old, she used her crayons and drew on one of the walls of her parents' house. Even though she was punished for that, it did not stop her desire to create paintings.
She smiled and said, "That was my first mural."
Her artistic career has been a lifetime experience that she has thoroughly enjoyed.
Judy was born June 9, 1950, at Greenville Memorial Hospital. She grew up in Easley in the Woodside Mill Village. She attended West End Elementary School and graduated from Easley High School in 1968.
She and her husband, David, have been married for 39 years. They have three sons, four grandsons and three granddaughters.
One of Judy's first jobs in Easley was at Swirl Incorporated. She was manager of the print shop. She said that it was while she worked there that she first used her artistic talent professionally.
She worked as a bookkeeper at Young's Incorporated, a television and appliance store in Easley owned by her brother-in-law, Joe Young. After she left there, she worked at Easley Housing Authority as an administer assistant.
Judy's paintings have been on display and for sale at the Greenville Textile Heritage Festival. She has painted murals on the walls at Baptist Easley Hospital, Palmetto Health Columbia, Piedmont Baptist Association and Buck's Restaurant in Easley, which is now the Smoking Pig.
At Safe Federal Credit Union, which is in Sumter, she painted murals on the lobby walls, from ceiling to the floor, with faux windows containing scenes of local landmarks.
Her last public place of employment was at Palmetto Medical Research, located on South B Street in Easley. She was an administrative assistant there. While employed there, she painted murals on the lobby walls.
Judy said all her life she had called herself an artist on the side, but now she is a full-time working artist. However, she does not paint murals anymore. She now has a studio in the backyard of her home. She thoroughly enjoys spending countless hours there painting.
Her style is folk art, and she uses acrylic paint. Many of her paintings are mill village houses, which are among her best-known works. As she sits in front of a blank canvas, her mind forms a picture of the house and yard before her paint brush makes the first stroke. The completed work captures the essence of how the mill village looked in the 1950s and '60s when she lived there. She has been told that her paintings speak from her heart.
Judy is a heart-warming, kind person with a soft voice and a warm smile and is always willing to help others.She said David is proud of what she has accomplished, and he has always been supportive and helped her whenever he could.
They own a camper and enjoy spending time at nearby lakes. Sometimes, Judy takes her paint supplies with her and sits outside by the lake, painting.
Easley resident Carol Baker highlights interesting local residents and helps us get to know more about the fascinating people who call Pickens County home. If you have someone somewhere who you think people should know about, contact us at news@thepccourier.com.