Daily Archives:
05/15/2018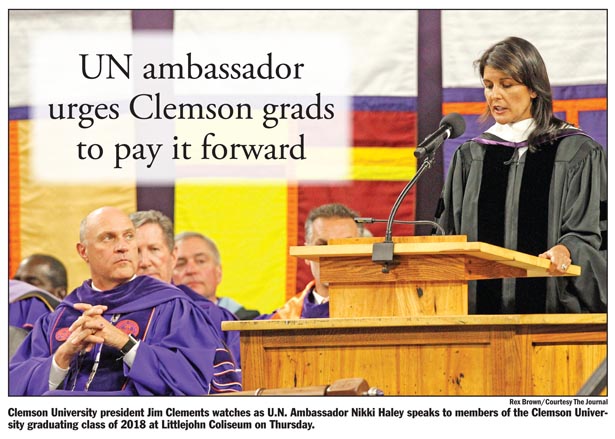 UN ambassador urges Clemson grads to pay it forward
Haley presented with honorary doctorate
By Jason Evans
Staff Reporter
jevans@thepccourier.com
CLEMSON — U.S. Ambassador to the United Nations Nikki Haley urged a group of Clemson University graduates last week to live lives of "active gratitude."
The former South Carolina governor spoke to graduates of the College of Business and College of Education Thursday afternoon.
"It's a great day at Clemson University and it's a great day in South Carolina," Haley said, recalling the catchphrase she ordered state government agency employees to use when answering phones during her first term as governor in 2011.
Haley graduated from Clemson in 1994 with a degree in accounting.
"Aside from my parents, Clemson is what has shaped my life the
You do not have permission to view this content
Subscribe Today or Login