Daily Archives:
09/04/2018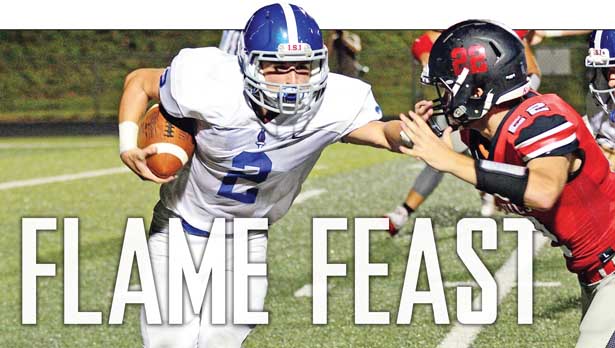 By Rocky Nimmons
Publisher
rnimmons@thepccourier.com
LIBERTY — The Pickens Blue Flame were hungry.
Going into the third game of the young season on Friday night, they were the only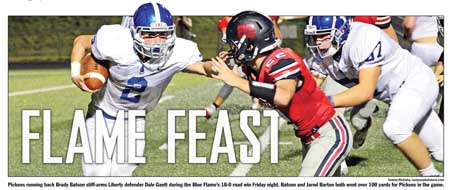 football team in Pickens County without a victory in 2018.
Pickens head coach Chad Smith knew his young team needed something good to happen, and something did when they traveled to face the always-tough Liberty Red Devils.
The Blue Flame found more offense, and defensive coordinator Eric Houston had his unit ready as Pickens came away with an 18-0 shutout win.
"We have a ton to work on, but you know our kids played hard," Smith said after the game. "Liberty is a quality program. Kyle Stewart and Jabo Burgess do a fantastic job. You know they have tough kids. We are happy to come in here and get a win. That is a big deal for us."
The Blue Flame's methodical style of football dominated the statistics on the night, racking up 326 yards of total offense, while holding the Devils to only 112. The bulk of the Pickens offense came from runner Jarod Barton. Barton seemed to find a new home in the backfield, as Smith and company ran him at fullback most of the night. Barton's relentless pounding of the rock garnered him 156 yards and two touchdowns on 30 carries.
"That is going to make a big difference for us down the line," Smith said of switching Barton to fullback. "We have to get some other kids up to speed, because when we move those positions some aren't used to playing them, and they are going to have to play more now. Those kids did a good job tonight. We will just get better with that lineup in."
It was classic Smith football from the get-go. Pickens pounded out an 18-play drive that ate 9:33 from the clock to open the game. The combo of Barton and wingback Brady Batson were a 1-2 punch that kept the Liberty defense on its heels. The drive even included a rare pass from Pickens quarterback Cole Beaty to Barton for seven yards. The series started at the Pickens 21-yard line and saw Barton
You do not have permission to view this content
Subscribe Today or Login