Category Archives:
Obituaries
Diana Lynn T. Moody
LIBERTY — Mrs. Diana Lynn Tovrea Moody, 64, wife of Robert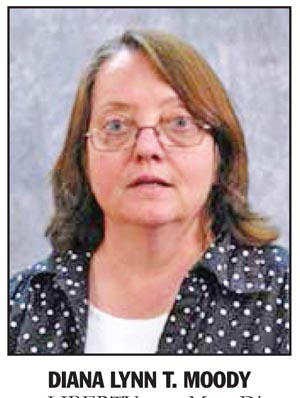 Louis Moody, passed away Sunday, March 18, 2018.
Born in Aurora, Ill., a daughter of the late James Charles and Mattie Frances Daughtry Tovrea, Mrs. Moody received her associate degree from Tri-County Technical College and was the manager of faculty services at Southern Wesleyan University. She was of the Baptist faith.
Surviving, in addition to her husband of 44 years, are a daughter, Rebecca Lynn Moody Banks of Liberty; two sons, James Robert Moody of Liberty and Stephen Philip Moody (Samantha) of Greenville; three sisters, Kathleen Jean Tovrea and Loretta Sylvia Tovrea, both of Greenville, and Sally Jean Tovrea George of Liberty; eight grandchildren and one great-grandchild on the way.
Funeral services will be at 2 p.m. Wednesday, March 21, in the chapel of Robinson Funeral Home-Powdersville Road. Burial