Daily Archives:
05/21/2019

LARRY R. WINN, MD
EASLEY — Dr. Larry Ross Winn, 79, passed away on Friday, May 17, 2019, at Greenville Memorial Hospital.
Born in Columbia, Dr. Winn was the son of the late Walker Wilson and Mattie Marguerite Ross Winn. At age 13, he became an Eagle Scout. He graduated in 1958 from Columbia High School and at age 17, he joined the National Guard, where he served for seven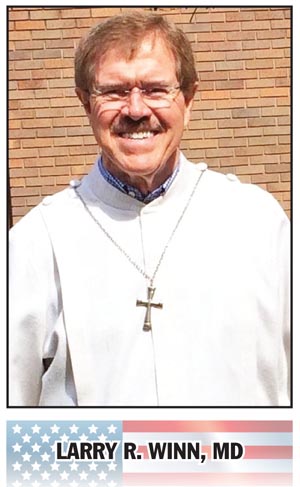 years. He received his B.S. and master's degree in chemical engineering from the University of South Carolina. Dr. Winn worked for NASA prior to attending MUSC, having graduated in 1974. He did his residency at Greenville General Hospital and was a physician, in Easley, for 41 years, until his sudden death.
As a volunteer for MUSC, Dr. Winn interviewed prospective medical school candidates for more than 30 years. He was past president of the MUSC Alumni Association. Dr. Winn was a gentle soul who loved and cared dearly for his patients. He was a great man of God and member of St. Matthias Lutheran Church, where he sang in the choir. His adventuresome spirit led him on many travels, and he enjoyed running, biking, snow skiing, swimming and bird watching.
Surviving are his wife of 50 years, Wraellen Messex Winn, of the home; a sister, Patricia Winn Langston (Mark) of Mt. Pleasant; sister-in-law, Brenda Messex of Greenville; brother-in-law, Jerry Messex of Georgia; nieces, Gretchen Buchanan (Jack) and Leslie Collier (Matt) and Wramie Spafford (Harry); several nephews, Jason Gallagher, Derrick Messex (Jennifer), and Travis Messex (Teresa); numerous great-nephews and great-nieces; and a special pet Havenese, Annabelle.
Memorial services will be announced by Robinson Funeral Home-Downtown.
In lieu of flowers, memorials may be made to the Alzheimer's Association, 123 W. Antrium Drive, Greenville, SC 29607 or St. Matthias Lutheran Church, 501 Powdersville Road, Easley, SC 29642.
Condolences may be expressed online at robinsonfuneralhomes.com or at Robinson Funeral Home-Downtown Easley, which is assisting the family.
GARY W. GRAY
LIBERTY — Gary W. Gray, 85, passed away peacefully on Monday, May 13, 2019, at his home in Liberty.
He was born on July 29, 1933, in Six Mile, to the late Mary Jane Riggins Gray and Gary Stewart. He was the widower of Judith Nix Gray and Peggy Madden Gray.
Gary was a brick and rock mason and invented and patented the Brick Buggy. He loved working on cars and tractors and was always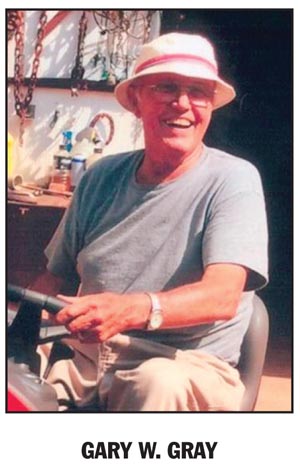 fixing or creating something. He had a huge heart for animals and enjoyed tending to his catfish ponds. He was of the Baptist faith.
Surviving are his three daughters, Sharon King (Tommy), June Coleman (Sam) and Tammy Coleman (Richard); five brothers, Jake Gray, Ray Gray, Wallace Gray, David Gray and Leroy Gray; four grandchildren, Josh Coleman (Kelley), Eli Coleman (Samantha), Lisa Swords (Chris) and Michael Madden (Beverly); and four great-grandchildren, Jonah Coleman, Finn Coleman, Connor Swords and London Lane.
Gary was also predeceased by one brother, Thomas Gray; one sister, Mildred Brewer; and one nephew, Michael Shane Fuller.
Funeral services were held on May 16 in the Dillard Funeral Home chapel, with the Reverend Tony Stancil officiating. Burial was held at Hillcrest Memorial Park.
The family would like to thank Gary's caregivers, Candice Teague and Renee Bennet, for their love, support and gentle care. Memorials may be made to Kindred Hospice, 15 Brendan Way, Ste. 100, Greenville, SC 29615, or to Pickens County Humane Society, 500 Five Forks Rd., Liberty, SC 29657.
Online condolences may be expressed by visiting dillardfunerals.com.
DOROTHY "DOT" R. MAULDIN
EASLEY — Mrs. Dorothy "Dot" Rackley Mauldin, 88, wife of the late Osbone J. Mauldin, went to be with her Lord and Savior on