Daily Archives:
09/22/2020
PICKENS — The Pickens High School Lady Blue Flame volleyball team traveled to Easley for its second contest of the season and defeated the Lady Green Wave in an exciting match that went to four sets. This year the teams are in the same 4A Region 1, making the contest especially significant.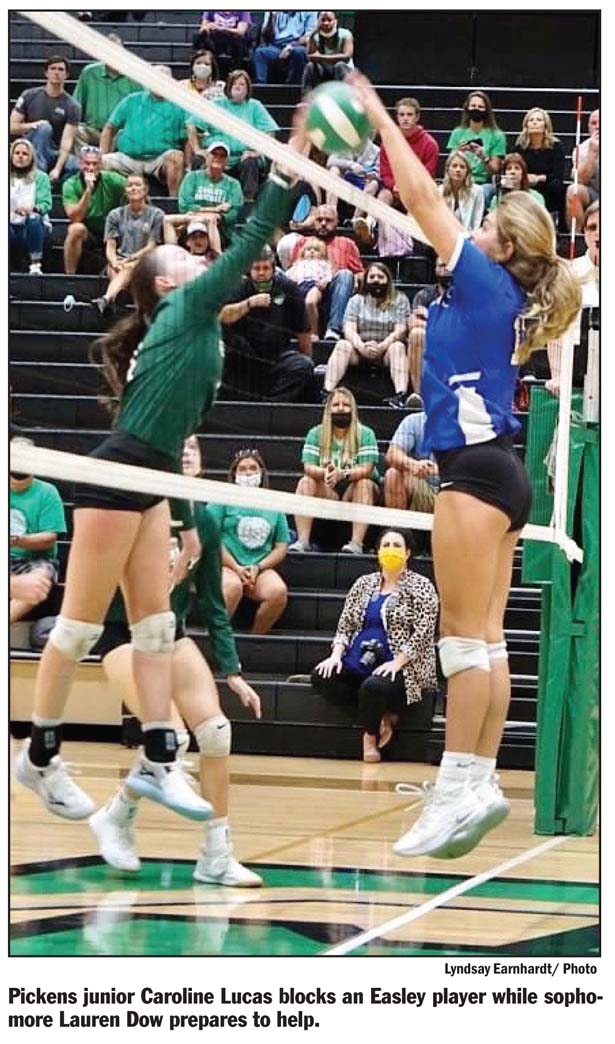 The Lady Blue Flame also defeated region foe Travelers Rest and played on Saturday in the Tournament of Champions at Dorman High School in Spartanburg.
The Easley match was played Sept. 15 at Easley High School, and a large contingent of fans was on hand from both sides. The Lady Blue Flame won the first set 25-19, but the Lady Green Wave stormed back and took the set second 19-25. The third set was a thriller, won by Pickens 26-24, and the Lady Blue Flame closed out the match in the fourth set 25-17.
"These girls put their words into action against Easley when we discussed the difference between hard work and competition," said Lady Blue Flame Coach Rikki Owens. "They showed up ready to compete, and each one reached their goals they had written out in the practice before the match."
In the Easley match, Pickens junior Caroline Lucas led her team with 11 kills, followed by junior Calie Covey with nine. Sophomores Faith Clarkson and Lauren Dow were tied with five kills apiece. Junior Bailee Earnhardt was the team leader in digs with 20, and