Monthly Archives:
February 2023

MARIA A. MENDOZA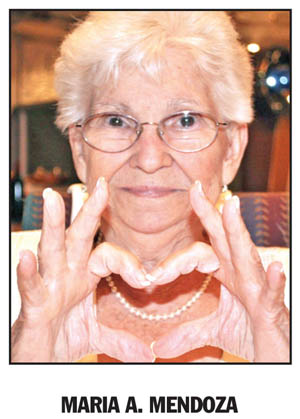 EASLEY  — María A. Mendoza, 88, passed away on Wednesday, Feb. 22, 2023.
María was born in Cuba, on June 23, 1934, to the late Joaquín García and Ramona Medina. María was a great prayer warrior and loved to sing hymns and read her Bible. She enjoyed reading, crosswords, coloring and watching game shows such as "Jeopardy" and "Exatlón Estados Unidos."
María is survived by three daughters, Silvia Mendoza (Michael DeMolina), Dámaris Rodríguez (Luis) and Lidia Fernández (Alex); four grandchildren, Valerie Rodríguez Michelena (Matthew), Britney Fernández, Jonathan Fernández and Ryan Rodríguez; one sister, Orfa García; and nieces and nephews.
In addition to her parents, María was preceded in death by her husband, Celso J. Mendoza; and one brother, Joaquín García.
A graveside service will be held at 10:30 a.m. Monday, March 6, at Dade South Memorial Park in Miami, Fla.
JACOB ERIC BRIGHT
CENTRAL — Specialist Jacob Eric Bright, U.S. Army National Guard, 22, passed away on Feb. 18, 2023.
Born in Easley, he was the son of Janet Lee Arnold Bright and Eric and Dawn Bright. Jacob was a 2019 graduate of D.W. Daniel High School, where he was member of the wrestling team and active in the JROTC. Even after graduation, he volunteered his time to assist the JROTC at Daniel High School.
He was currently serving his country in the U.S. Army National Guard, mobilized to the National Capital Region, 2-263 Air Defense Artillery Battalion in support of Operation Noble Eagle. Jacob was a member of Greater Life Worship Center, where he was an active member of the youth program and assisted with the media.
He is survived by his parents, Janet Lee Arnold Bright of Greenville and Eric and Dawn Bright of Central; brothers, Matthew A. Bright of Greenville, Jonathan Bright (Kimberly Black) of Central, Aaron Akins (Tiffany Cole) of Central and Daniel Akins (Abby Burton) of Taylors; grandparents, Stanley and Jan Bright and Barbara Schweers; nieces, Aliyah Bright, Raylee Bright and Bayleigh Akins; and a nephew, Bentley Akins.
The family received friends on Feb. 27 at Duckett-Robinson Funeral Home in Central.
Funeral services were held on Feb. 28 in the funeral home chapel. Burial with full military honors followed at Cross Roads Baptist Church Cemetery, Easley.
In lieu of flowers, the family request donations be made to D.W. Daniel High School JROTC, 140 Blue and Gold Blvd., Central, SC 29630, Attn: Tiffany Cole. Please put on memo line Bright, JROTC.
Visit robinsonfuneralhomes.com or Duckett-Robinson Funeral Home and Cremations, Central-Clemson Commons.