Easley season ends on Greenwood trip
By Eugene Jolley
Courier Sports
ejolley@thepccourier.com
GREENWOOD — Greenwood pulled away for a 31-7 win over Easley Friday night in the first round of the South Carolina Class 5A playoffs, putting an end to the Green Wave's season.
Easley finished the season with a 5-6 record. Greenwood (9-2) advances to play at Boiling Springs in the second round.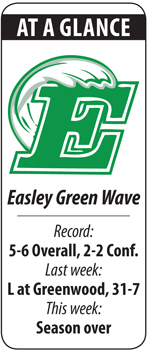 Easley could not have drawn up a better way to start the game, keeping the ball for more than eight minutes on the opening drive. Greenwood was guilty of an illegal substitution on fourth down, keeping the drive alive early, and quarterback Weston Black hit Tyrese Bradley for 10 on fourth and four at the 46.
The drive eventually reached the Eagles' 26, but Black was called for intentional grounding and Nathan Baker tried a 45-yard field goal that missed wide right with 3:46 left in the first quarter.
Points may have made a huge difference there, as Greenwood responded, going 80 yards in nine plays. Facing third and seven at the 34, quarterback Rashun Jackson found junior receiver Sam Pinckney over the middle for a 34-yard touchdown. Jackson barely eluded the pressure of linebacker Caleb Hill on the play before finding Pinckney over the middle with 37.5 seconds left in the first quarter. Niess McCoy's kick made it 7-0.
"We didn't convert right there," Easley coach John Windham said. "We had a penalty there that set us back. It was a one-score game there till right before the half. (Pinckney) made several big plays tonight. I'm proud of the way our guys played and played this season, but I give (Greenwood) credit. They had more explosive plays than we did. We had it going a little bit early and we were not able to capitalize on it. I give Greenwood a lot of credit. They played well tonight."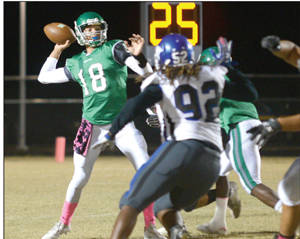 The rest of the half was a defensive standstill. Late in the half, following a 44-yard Baker punt, the Eagles, starting at their own 9, went back to the big play. Facing second and 7 at the 12, Jackson threw it as far as he could throw it, and Pinckney made the catch for 48 yards to the Easley 40. The drive stalled at the 17 with time running out. McCoy then kicked a 34-yard field goal that hit the cross bar and bounced over as time expired on the half, making it 10-0.
Kerry Gilstrap/Courier
Quarterback Weston Black and the Easley Green Wave saw their season come to an end Friday night at Greenwood.
"That was huge. It hit the cross bar and bounced over there," Windham said. "One more rotation and it might not have got through there. It was big, but we're not out of the game by any means. We moved the ball well at times, but we just didn't score enough points. They had a lot to do with that. They had some really big plays."
More of those big plays would come early in the second half. On the third play of the half on third and eight, Jackson again threw it as far as he could and Pinckney ran under it for a 75-yard scoring strike with 10:28 left in the third quarter, making it 17-0.
The Eagles then got a big 45-yard punt return by Von Ramsey to the Easley 30. Four plays later, and following a pass interference penalty, tailback Rayshawn Moss squirted through to score from nine yards out, making it 24-0 with 7:29 left in the quarter.
Kerry Gilstrap/Courier
Sean-Thomas Faulkner is one of a number of seniors the Easley Green Wave must replace heading into next season.
Easley got some momentum going early in the fourth quarter, but on fourth and four, Black was picked off by Tim Ewing, who returned it to the Green Wave 22. Four plays later, Moss ran untouched from 10 yards out, making it 31-0 with 6:31 left.
Easley came back, aided by a roughing the passer penalty. Will Drawdy then ran 23 yards to the 15. The drive stalled, and the Green Wave tried a trick play with receiver Bralan Fuller throwing back to Black, but it was stopped for a six-yard loss.
Easley got it back as Hill had a tackle for loss on third down. Black fired deep to Fuller, who out-jumped Justin Arnold at the 20 and went in untouched for the 56-yard touchdown with 1:55 left.
Levi Segee recovered the onside kick for Easley, giving the Green Wave one more chance. Black hit Fuller for 37 down to the 19, but another sack and incomplete throwback pass led to a turnover on downs.
"It's the first time we've been to the playoffs in three or four years," Windham said. "I'm very proud of everything the seniors have done for Easley. They've played well. We had a very competitive team this year. I would have loved to have kept playing, but it didn't go our way tonight."
As for the future, Windham is optimistic.
"I think we have a lot to build on. We have some good guys coming back. We've just got to continue to work hard, keep developing and keep getting better," Windham said.