Explosive plays help Pickens in first win
Tommy McGaha/seeyourphotohere.com
Pickens' Bryson Capps fights for yardage against West-Oak on Friday night.
By Eugene Jolley
Courier Sports
ejolley@thepccourier.com
PICKENS — Needing a win desperately Friday night, the Pickens Blue Flame exploded for 27 second-quarter points thanks to some big plays in beating winless West-Oak, 54-21.
Pickens (1-3) will have an open date this Friday night and will return to action Sept. 23 at Seneca.
Wanting to go into the open week on a high note, the Blue Flame turned to the big play. The win also earned Pickens head coach John Boggs a Gatorade bath.
"I will take it every week," Boggs said. "We'll gladly take a bath of Gatorade every week if it comes after a win."
The Blue Flame's initial drive resulted in a 39-yard field goal attempt that just missed to the left with 9:19 left in the first quarter.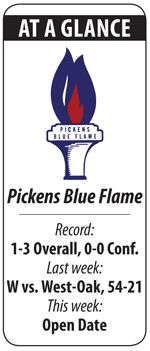 The first score came on the third series. Quarterback Tanner Stegall had a 21-yard keeper and a 21-yard pass play to Jared Barton. Three plays later, Stegall kept it around the right end with 2:28 left in the first quarter. Dylan Banyard's kick made it 7-0.
West-Oak, also looking for its first win, answered with an eight-play drive in which Pickens was penalized five times. Lee Jordan took a quick pitch right from four yards out for the score, and his kick tied the game at 7-7 with 10:43 left in the opening half.
That seemed to awaken the Blue Flame. First, they went 65 yards in six plays, keyed by Jamal Blythe's 51-yard run. Bryson Capps scored from a yard out with 8:53 left in the half.
Then, after forcing a three-and-out series, Pickens got it back and went quick, as the two-play, 74-yard drive was capped by Stegall rolling right and hitting Robert Jones behind two defenders for a 70-yard scoring strike with 6:49 left in the half.
"Jamal (Blythe) stepped in and gave a big spark for us," Boggs said. "I thought Kyle Day ran the ball well for us all night. Tanner (Stegall) continues to do a good job with his legs. Then that long ball to Robert Jones, backed up down there, was a perfect ball.
"I was proud of our guys all the way around tonight. I thought our defense played well. We made some mistakes early with some penalties that kept some drives alive. I was very proud of our effort overall in everything. Stone (Prince) punted the ball well. We had a couple of break downs on our PATs that we have to fix and get better. We also had a couple of breakdowns on our kickoff coverage."
Barton's 21-yard punt return set up the next score. Blythe took a pitch around the left side, destroyed a defender at the 30 with a back stiff-arm and scored from 55 yards out with 2:43 left in the half.
West-Oak answered, as Peyton Tollison hit Jacob Prater for a 41-yard scoring strike with 1:14 left in the half.
That left plenty of time for the big-play Blue Flame, as they covered 55 yards in seven plays, keyed by Stegall's 40-yard keeper to the 1-yard line. Day scored from a yard out with 12 seconds left, making it 34-14 at the half as the kick was blocked.
The Pickens defense came up big in the second half. Daniel Hooper picked off a pass at the 20 to stop a drive. Prater was injured on the drive for West-Oak and was taken away by ambulance. It left for an odd scene later, as Prince hurt his arm for Pickens. He was taken to the Warriors' sideline as Prater was receiving care there. Prince returned to the Pickens sideline following a later injury.

The Blue Flame offense kept rolling, and again Barton keyed it with a 21-yard punt return. The drive covered 36 yards in 12 plays. The big play was a Stegall keep for 15 on third and 17. Six plays later, Capps scored from a yard out with 5:46 left in the quarter, making it 41-14.
"Jared Barton did a good job of returning punts and catching the ball," Boggs said. "That's the big thing on punt returns is catching the ball. Catching and not going anywhere is better than letting it roll."
Capps came up with a big play on defense on the next series as the snap to Tollison was high, and in his effort to recover, he was hit by Capps, causing another fumble that was scooped up by Lenny Russell at the Warriors' 43.
On first down, Stegall fired deep for Cole Stewart, netting 41 yards. Two plays later, Stegall took a draw play from three yards out for the score with 3:08 left in the third quarter, making it 48-14.
The defense came up big again as Tollison tried to make a pitch downfield and it was recovered by Jared Pace.
West-Oak did get another score as Seth McLaughlin scored from four yards out with 9:48 left, making it 48-21.
A lot of reserves got to play, and Cameron Galloway finished the scoring with a 34-yard burst with 8:08 left, making it 54-21.
Kent Townsend recovered another West-Oak fumble in sealing the first win of the season.
There was another change in the starting lineup along the offensive line, and senior right tackle Richie James came up big.
"I'm proud of that kid," Boggs said of James. "Richie stepped up all week long in practice. He had some opportunities and took advantage of them. He earned every snap he played tonight. I'm very proud of him, and that's not anything against the guys that he stepped in for. He just knows what to do. He's aggressive and he gets after it."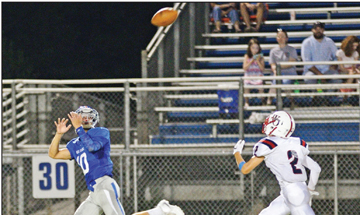 Tommy McGaha/seeyourphotohere.com
Pickens' Robert Jones runs underneath a long pass from quarterback Tanner Stegall in front of a West-Oak defender on Friday night. Jones scored on a 70-yard pass from Stegall.
The win capped an unusual week with the students being out of school three days.
"We had a really strange week," Boggs said. "We had Labor Day Monday, which all coaches hate Labor Day — all football coaches do. We had Tuesday as an in-service day and Wednesday as an in-service day. We had coaches scattered all over the district in meetings.
"We made the decision back in the summer to go at 6 in the morning on Tuesday and Wednesday, and that puts a whole new set of challenges on you. No. 1, you've got to get them up and get them here. If they are here, how will they be? We went at 7 on Monday morning and other than three guys — I knew where they were with family — they were here. On Tuesday, we were missing one, and that's varsity and JV. On Wednesday, we were missing one. Other than that, all of these kids were here. That says a lot about these kids and their dedication, their commitment to each other and their commitment to the program.
"I told the coaches that there were probably a lot of coaches in our situation where players didn't show up for practice Monday morning. And they just had Monday. We had to deal with Tuesday and Wednesday. We had a great practice Tuesday and had a pretty good practice Wednesday. It was a whole heck of a lot cooler. We had a really good week of preparation. I was really proud of the kids for the way they responded this week. Last week's loss was tough, and for them to bounce back like they did says a lot about them and their character."