Flame pitch shutout
Tommy McGaha/seeyourphotohere.com
(Right) Pickens' Cole Seaborn returns an interception during the Blue Flame's shutout win over Travelers Rest on Friday.
By Eugene Jolley
Courier Sports
ejolley@thepccourier.com
PICKENS — Needing a win in the worst way to build momentum for its regular-season finale and a shot at earning a playoff berth, Pickens shut out Travelers Rest Friday night, 33-0, in a non-region contest.
The Blue Flame (2-7, 0-3 Region I-4A) will now take Friday night off before hosting region foe Daniel on Nov. 4. A win likely means a state playoff berth. A loss, and the season will be over.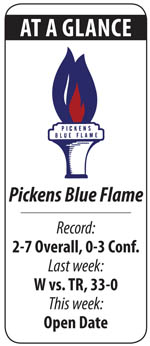 Pickens had struggled since a win against West-Oak. Ironically, the last shutout win for Pickens came in 2015 against West-Oak, 38-0.
The Devildogs (2-7) entered the game struggling as well, and Travelers Rest had early troubles with the punting game. Bryson Capps blocked one punt, and twice the punter decided to run, coming up short both times.
Following a short punt, Pickens took over at the Devildog 48 and drove in seven plays to a score, all on the ground. Kyle Day ran it up the gut the final two yards with 6:48 left, making it 7-0.
The Devildogs then had adventures in the kick game. Punter Will Satterfield tried to run but was stopped by Capps and Colin Hinkle at the 20. Three plays later, Brandon Batson took a counter play 13 yards for the score with 5:20 left in the quarter.
Capps then blocked the next punt, giving Pickens great field position. This time, there was no conversion, as Day fumbled it right back.
The defense held again, and again Satterfield tried to run on fourth down and was stopped by Stone Prince and Capps for a four-yard loss. Satterfield was later replaced in the game.
"We wanted to concentrate on not turning the ball over," Pickens coach Chad Seaborn said. "Trying to get first downs and get some momentum going. We changed things offensively a few weeks ago, and the timing is getting better. We knew if we could just hold onto the ball that good things would happen. We did get some good field position on miscues on their part. We took advantage of that. We did have a few turnovers and we left some points on the board, and we gave up a few big plays — but all the things we worked on this week, I thought we did a good job of executing tonight."
Pickens took advantage of this miscue, going 15 yards in four plays. Quarterback Jared Pace called his own number behind right guard Jake Gantt for a five-yard score with 19 seconds left in the first quarter, making it 20-0.
On Travelers Rest's next possession, Capps got a sack on third down following Braden Gravely's tackle for loss, forcing a punt. This time, it was a 66-yard burst by Day up the middle for the score with 8:01 left in the half, making it 26-0. Day rushed for 142 yards in the first half on 14 carries.
"He's been close and is getting better and better," Seaborn said of Day. "He hit some tonight. We knew in the open that he could do some things. I'm very proud of him and his work ethic. I'm proud of all of them. Those guys have been through a lot and faced a lot. To bounce back like they did tonight, I'm proud of them."
Pickens was stopped short on fourth and a yard at its own 45. But the defense held as Kirkland Gillespie broke up a pass in the end zone on fourth down.
Tommy McGaha/seeyourphotohere.com
Pickens' Kyle Day rumbles through a hole in the Travelers Rest defense during their game Friday. Day had 176 yards and two scores on the ground against the Devildogs.
Pickens scored a final time on the opening possession of the second half. On fourth and goal, Pace kept around the right side untouched, making it 33-0 with 8:14 left in the quarter.
The defense came up with more big plays in the second half. Cole Seaborn picked off a pass and returned it to the 10. Robert Jones fumbled through the end zone, however, on the next play.
Dorian Butler nearly had another pick, but broke it up. Then, Seaborn, Cameron Galloway, Hinkle and Gillespie stopped the Devildog quarterback short on fourth and four.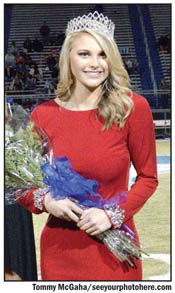 Pickens had it two more times, but ran out the clock to get the needed win.
Tommy McGaha/seeyourphotohere.com
Tori Kennedy was crowned 2016 Pickens Homecoming queen at halftime of Friday night's game against Travelers Rest.
"We needed it in the worst way, because I felt like they were doing all the right things in practice," Seaborn said. "We were practicing them hard and making corrections. They wanted it. It was a win we needed, and I think it will give them some confidence in a tough game against Daniel next. I hope we can keep the momentum going. I told them — we win, we're in. As long as we keep winning, we keep playing. I like this group and I want to play with them as long as we can."
The matchup against Daniel has been moved to Nov. 4 as a result of schedule changes caused by Hurricane Matthew.
Note: Tori Kennedy was crowned homecoming queen Friday night at halftime.