Mistakes doom Wave vs. Rams
By Eugene Jolley
Courier Sports
ejolley@thepccourier.com
ANDERSON — If Friday night's game between Westside and Easley was a boxing match, it may have been stopped early after a flurry of blows by the Rams in a 46-7 Region I-5A contest.
Westside (7-1, 2-0) scored in a variety of ways, thanks in part to some mistakes on special teams by Easley.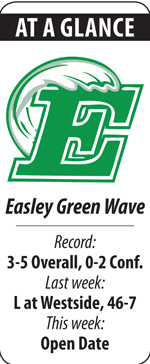 The Green Wave struggled on special teams throughout the night, particularly on three plays that led directly to points for Westside:
• A high snap on an Easley punt was recovered at the Green Wave 10. The Rams scored two plays later.
• Another punt was partially blocked and returned for a score that was negated by penalty. The play set up another Ram scoring drive.
• Then in the second half, a dropped punt snap was pushed out of the end zone for a safety. To compound matters, Westside's K.D. Fant-Miles returned the ensuing free kick 70 yards for a touchdown.
Westside also added another non-offensive score when outside linebacker Vic Garrett made a leaping interception and returned it 11 yards for a score. Garrett had already batted down two passes before the pick.
"It really did snowball. They're a really good team and we gave them a short field," Easley coach John Windham said. "Their kid made a great interception there. You can't do that — I think it was like a 21-point swing right there which we were not able to overcome. They're a really good team."

Easley (3-5, 0-2) started out strong, getting a three and out defensively, and finding the end zone on the Green Wave's second series.
Weston Black hit Carter Wiles on a nice 27-yard sideline catch, then, facing fourth and four at the 26, Black, with three defenders in the backfield and one around his ankles, found Bralan Fuller behind two defenders in the left side of the end zone. Nathan Baker's kick made it 7-0 with 5:54 left in the first quarter.
"We had a good start and were able to run the ball a little bit," Windham said. "Weston made a good throw to Bralan. Unfortunately, we were not able to capitalize on that, but it was a good start."
But the Rams scored on the next five possessions, including four times in a 28-point second quarter to build a 36-7 halftime lead.
Windham did not say Westside was the best team the Green Wave had faced so far, though he did say the last game of the season in Anderson, between Easley's previous two opponents, rivals T.L. Hanna and Westside, should be a great one.
"We've got a really strong region, and when those two teams play, it will be a great game," he said.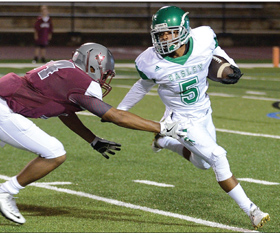 Tommy McGaha/seeyourphotohere.com
Easley's Cavario Cureton returns a kick during the Green Wave's loss at Westside on Friday night.
The Green Wave will take next week off before hosting Woodmont and playing at J.L. Mann to close the season. A playoff berth is still at stake as the top four teams in the region advance.
Tommy McGaha/ seeyourphotohere.com
Easley's Sean-Thomas Faulkner takes down Westside quarterback Jackson Williamson during their game Friday night in Anderson.
"We've got a week off and we've got to regroup and get ready for the next game," Windham said. "We've only played two region games and we're halfway through. We had some guys that were out tonight and had some guys that got hurt tonight in the game.
"We've got to get healthy for the last two weeks and continue to improve. Get healthy and get better — those two things."