Monthly Archives:
August 2018
By Rocky Nimmons
Publisher
rnimmons@thepccourier.com
PENDLETON — After a hard-fought slugfest with defense the name of the game last Friday night at Pendleton, the Pickens Blue Flame are still looking for their first victory of the 2018 season after falling to the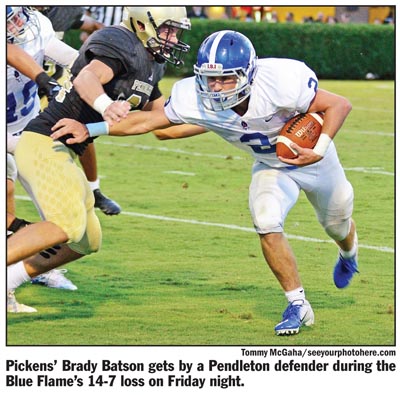 Bulldogs, 14-7.
The Blue Flame had their chances and led most of the contest, but a fourth-quarter Pendleton touchdown that coach Chad Smith's Pickens squad could not answer gave the Blue Flame a long ride home.
"That was a tough one," Smith said. "It is a tough one to swallow. We didn't execute when we needed to. Pendleton is a good football team. They are an athletic football team. My hat is off to them — they made a play when they had to."
The turning point of the game came late in contest, with just 2:02 on the game clock. Pickens could not get the ball across the goal line on a fourth and goal from half a yard out. The play saw Smith call the number of his explosive running back Brady Batson, who was swallowed up behind the line of scrimmage by the Pendleton defense, ending any hopes for the Big Blue.
"Brady Batson was cramping, but you know he is a player, and Jarod Barton is a heck of a blocker and a good runner," Smith said. "I felt like we were better going that way. Bottom line is that wasn't Batson's fault — there were about four kids that came through there unblocked, and that
You do not have permission to view this content
Subscribe Today or Login