Monthly Archives:
May 2019
RICHARD E. MILLER
CENTRAL — Richard Eugene Miller, 63, died at home on Thursday, May 23, 2019, with his family surrounding him.
He was born Dec. 28, 1955, in Seneca to Doug and Lib Miller.
Rick graduated from D.W. Daniel High School, received an associate degree from Tri-County Technical College and worked in the grocery business and at BASF in Seneca. For the last three and a half years, he bravely fought cancer. He worked through the end of March, which is when the cancer began its final painful siege of his body. Through this long battle, Rick was supported by close family members, friends, coworkers and customers who called, texted, prayed, read Bible verses, sent cards and encouraged him. He experienced the love of Jesus through their kind support.
He asked us to express his appreciation for these kind actions, prayers and words, which would lift him up when he felt he could not keep going. The doctors and nurses who treated him through these years also became dear friends. The staffs of St. Joseph Emory in Atlanta, Anderson Area Cancer Clinic, Carolina BioOncology in Huntersville, N.C., and finally the staff of Hospice of the Upstate became his friends. These lovely people made the cancer journey more bearable for him
Rick is survived by his wife of 40 years, Nancy Elias Miller; two daughters, Julie Bird (Dalance) and Anna Redmon (Cecil); two sons, Richard and Daniel; his sister, Mary McAlister; and his brother, Hugh. He was so proud of his five grandsons, Addison, Matthew, Parker, CT, and Collin; and his numerous nieces and nephews.
Rick was predeceased by his parents, his beloved brother, Henderson, and a precious grandson, William Herbert.
A memorial service for Richard will be held on Friday, May 31, at 4 p.m. at Duckett-Robinson Funeral Home in Central. The family will greet friends immediately following the service at the funeral home.
A private interment at Ramsey Creek Preserve will be held at a later date.
In lieu of flowers, memorials may be made to either of the following: St. Andrew Catholic Church Building Fund, P.O. Box 112, Clemson, SC 29633 or to Hospice of the Upstate, 1835 Rogers Road, Anderson, SC 29621.
Condolences may be expressed online at robinsonfuneralhomes.com or at Duckett-Robinson Funeral Home, Central.
LORETTA C. HUNTER
LIBERTY — Catherine Loretta Golden Crowe Hunter, 82, widow of John Curtis Hunter Jr., passed away on Tuesday, May 14, 2019, at Cottingham Hospice House in Seneca.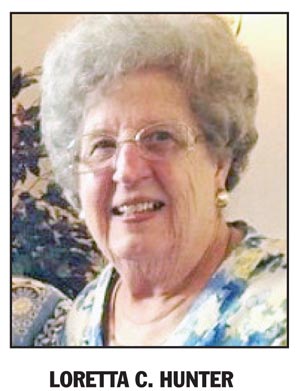 Loretta was born in Central, a daughter of the late Richard Duff and Mae Boggs Golden. She was a member of the first graduating class of D.W. Daniel High School in 1956. She was a retired employee with West Point and attended Mt. Sinai Baptist Church in Pickens. She and Curtis loved to bowl, and she enjoyed spoiling her grandkids.
Surviving are her daughter, Cathy Lynn Gerlach of Liberty; brother, Darrell Lee Golden of Pickens; sister, Connie Fay Barnes of Central; grandchildren, Catherine Kelley (Kyle) of Liberty and Jennifer Collins (Bradley) of Hendersonville, N.C.; and great-grandchildren, Henry, Abby and Huntley Kelley.
In addition to her husband, Loretta was predeceased by brothers, Edward Golden and Ronnie Golden; and sisters, Ruth Weldon and June Hendricks.
Funeral services were held on May 17, 2019, in the chapel of Duckett-Robinson Funeral Home with Revs. Bradley Collins and Rudy Smith officiating.
Burial was at Memory Gardens.
Condolences may be expressed online at robinsonfuneralhomes.com or at the funeral home.
ANNETTE HARDY PACE
PICKENS — Annette H. Pace, 56, passed from this life on Monday, May 20, 2019, at her home.
Born in Easley, she was the daughter of Clarence Douglas and Ruby Cox Hardy.
Annette was known to be a loving, caring and giving person, but was most defined by the love she had for her three boys, and she was definitely a "Daddy's girl."
Survivors include her parents, Clarence and Ruby Hardy of Pickens; sons, Travis (Dixie) Pace, Trenton (Courtney) Stegall and