Daily Archives:
09/06/2023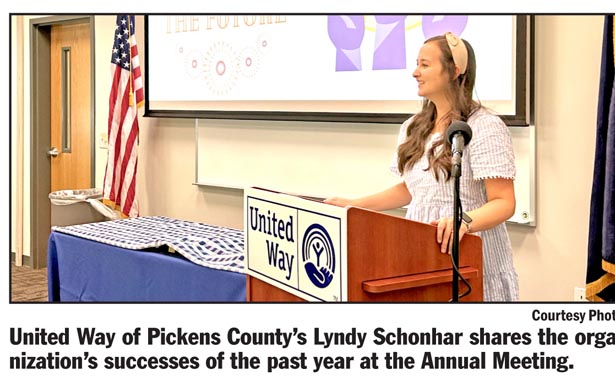 By Jason Evans
Staff Reporter
jevans@thepccourier.com
COUNTY — United Way of Pickens County staff and supporters gathered Thursday to celebrate the organization's successes in the past year.
"United Way truly is a community organization and it's driven by community members who volunteer their time and resources to fight for the education, financial stability and basic needs of every person in Pickens County," said Lyndy Schonhar, Director of Corporate Engagement for United Way of Pickens County.
A lot has happened in the past year, she said.
"We've seen so many futures made brighter within households, in classrooms, sometimes in the walls of our own building," Schonhar said.
Supporters have contributed to programs targeting education and financial stability, "two significant building blocks for a better future," she said.
The Camp iRock program works toward United Way's "bold goal that 70 percent of third graders will be reading on grade level by the year 2025," Schonhar said.
This year's summer reading program saw 500 children in k4 through third grade register, she said.
"Most days, an average of 400 children were having the time of their lives while working hard on improving their reading," Schonhar said."96 percent of children who attended at least 50 percent of camp maintained or grew in their reading levels."
Camp iRock will celebrate 10 years of changing lives next year, she said.
"We owe it all to donors and friends like you, who donate so generously to United Way's early education initiatives," Schonhar said. "The very first cohort of Camp iRock children are graduating in 2024."
Helping kids enter kindergarten ready to learn is a key factor in helping them reach on grade level by the time they reach third grade, she said.
The organization's Women United network began the Preschool Pages program five years ago.
"More than 1,600 books were provided to 300 preschoolers across 11 elementary schools last year," Schonhar said. "For more than 100 children, Preschool Pages was the only formal enrichment program they participated in."
Teachers have seen growth in those preschoolers in both early literacy and classroom readiness, she said.
Women United's annual fundraiser, the Luncheon for Literacy, is set for March 2024.
"These programs cannot happen without community support," Schonhar said.
Free File, United Way of Pickens County's free tax preparation program, is also having an impact on individuals and families, she said.
"1,555 families and individuals, with an average household income of roughly $19,000 were able to have their taxes prepared for free," Schonhar said.
Because of that, nearly $1.9 million went "back into the pockets of hardworking people in Pickens County last year," she said.
Those served by the program included students, refugees, veterans and the elderly.
"This service would not have been possible without our 39 Free File volunteers who served as readers and preparers," Schonhar said.
Pathways, a one-on-one intensive financial coaching program, continues to make an impact since launching in 2021, giving the families and individuals participating the skills, assistance, knowledge and resources needed "to achieve freedom over their finances," she said.
Among the 5 people participating in the program during the first 6 months of 2023, the average debt to income ratio went from 49 percent to 22 percent, the percentage between expenses and income decreased from an average of 91 percent to 84 percent, the average credit score increased from 598 to 662, Schonhar said.
"The total amount in savings accounts increased from $338 to $9,635," she said. "These are all very encouraging statistics and speak to the determination of both the participants and their coaches."
Pinnacle Financial Partners teamed with United Way of Pickens County this year on the Pathways program, helping develop training modules for current and future Pathways participants.
"We are incredibly grateful for the impact that this will have on families and individuals in Pickens County," Schonhar said.