Monthly Archives:
December 2022

BRYAN LOYD SMITH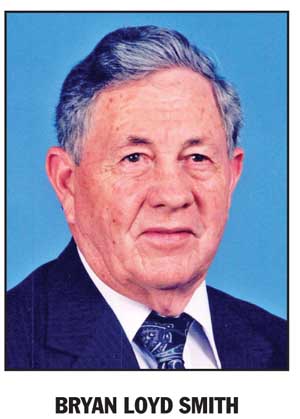 SIX MILE — Bryan Loyd Smith, 93, passed away on Monday, Dec. 19, 2022.
Bryan was a lifelong member of Six Mile Baptist Church.
Bryan is survived by a sister, Jeanette Thomas; a brother, Carlos Smith; daughters, Diane Singleton (Stephen) and Jackie Smith; stepson, Jim Patterson (Jane); grandchildren, Tori Bell (Jerad), Kiley Dorth (Ryan), Sara Lazarus (Kyle), Michael Schmidt and Aaron Geller; great-grandkids, Regan and Tahlia Bell, Zeik and Kelce Dorth and Evie, Gabe and Theo Lazarus; and numerous nieces and nephews.
Bryan was preceded in death by his parents, Elmer and Selma Smith; wife, Mozelle Nations Smith; wife, Aletha Patterson Smith; and several brothers and sisters.
A private committal service will be held sometime in early January.
In lieu of flowers, donations can be made to Six Mile Baptist Church, 149 N. Main St., ​P.O. Box 134, Six Mile, SC 29682.